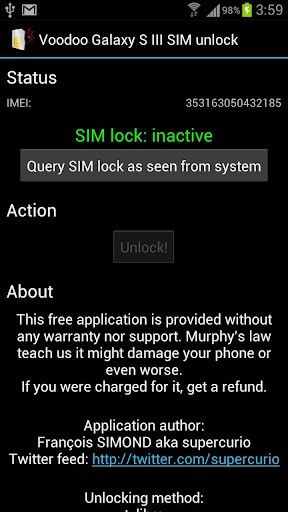 If you've ever wondered how to break free of the deadlock in your mobile operator's SIM lock feature, we may have an answer to your problem. Although some carriers do offer unlocking options albeit at the expense of a nominal fee, some others often reject, outright, a request to unlock the SIM. This is certainly one of the more common problems faced by smartphone users - this restriction in carrying devices outside native cellular networks.
It now appears that XDA Elite Recognised Developer "supercurio" recently released an app into the Google Play Store with the ability to unlock your smartphone's SIM with a single tap or click.
The new one-click SIM unlock app, dubbed "Voodoo Galaxy S3", is presently a beta app meant to unlock only the GT-i9300 model. The app reportedly works well and, according to the developer it is: "one click, no reboot, safe". We must add, however, you do require root access before SIM unlocking your device.
We must also caution users they are advised to take back-ups of all data and remind them the app does not come with a warranty or support of any sort.
"The app is an implementation of XDA forum member txlibre's procedure for SIM-unlocking the SGS3, which itself comes from forum member dagentooboy's thread on how to unlock all SGS models via nvdata.bin," XDA Developers reported.
The Voodoo app is entirely coded in Java, wherein the app parses the /proc folder to locate the rild process, which in turn activates the nv_data parsing method again.
"This fails verifying the md5, which generates a log file, which contains the newly expected MD5 sum for the nv_data. The system-generated MD5 is inserted in place of the original MD5. It's an interesting technique, and all this is done with just one click!" explained XDA Developers.
You can download a copy of this tiny yet powerful utility for the Galaxy S3 SIM unlock from Google Play Store (download link) and enjoy the freedom of unlocking wherever you go.