Samsung's new Galaxy Note 3 features a 5.7in full HD Super AMOLED display of 1080p resolution and runs with the fastest chipset available so far, the Snapdragon 800 featuring a quad-core processor clocked at 2.3GHz.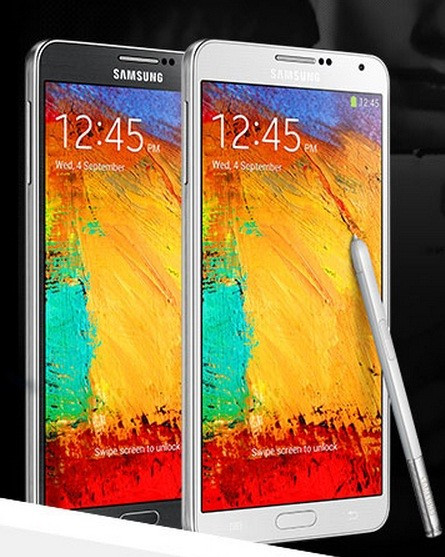 Samsung ensured that its new phablet has enough power to deliver an extended battery life, supplying a bigger battery of 3,200mAh. However, this reflects quite well through the series of battery tests conducted by GSMArena. The Galaxy Note 3 performed quite fair in each individual field and sometimes it was one among the top performers.
On the first test measuring, the talk time battery endurance on a 3G network, the Galaxy Note 3 posted an impressive score of 18 hours and 12 minutes. However, it failed to match the score with some of the large-screen rivals such as LG Optimus G Pro and Xperia Z ultra which offered talk time over 20 hours (20:45 hours and 24:23 hours respectively). Sony's camera smartphone, the Xperia Z1 with talk time almost close to 27 hours, occupied the first place in the same test.
The battery of the Note 3 drained out after nine hours and four minutes of continuous web browsing. This is indeed an achievement for an AMOLED screen. Besides, the Note 3 was much ahead of its rivals and several other devices in the list. The new LG G2 was the winner in the test with web browsing up to 11 hours and 22 minutes.
As the results suggest, the Galaxy Note 3 took advantage of the better efficiency of its Super AMOLED display for video playback. It lasted for 13 hours and 32 minutes of looped video playback before its battery dropped down to 10%. Samsung's new Note secured third place in the chart and outdid only by Motorola Razr Maxx handsets, which feature comparatively smaller screens than the Galaxy Note.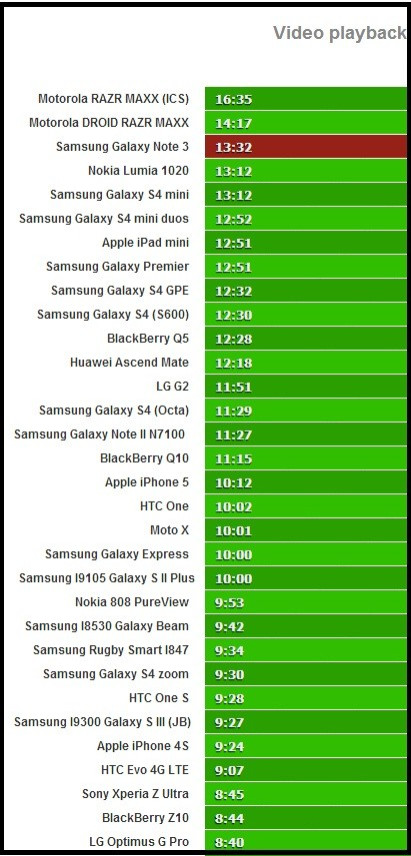 The Galaxy Note 3 scored an endurance rating for 75 hours, with due credits to the great stand-by endurance and impressive performance in individual test. This means the Note 3 can run for slightly more than three days if it is used for one hour of video playback, one hour of 3G calls and one hour of internet use each day. In terms of overall battery performance, the Galaxy Note 3 offers an excellent battery life for its size and features as well.
Also read: Android 4.3 Update Status for Galaxy S4