Gambian diplomat Samsudeen Sarr defends use of deadly force against 'foreign-sponsored uprising'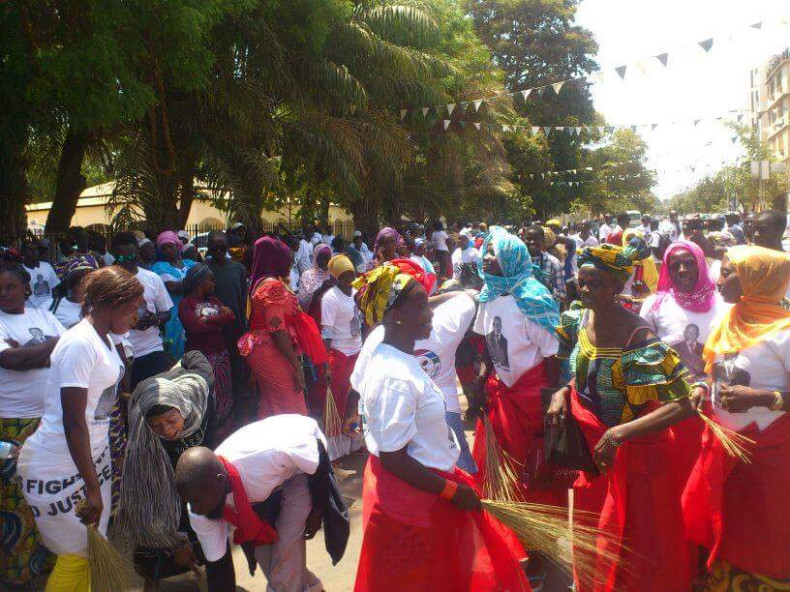 A Gambian diplomat accused of inciting violence against protesters in his country has spoken out about a leaked tape in which he suggested he would open fire on demonstrators, referring to protesters rocking Gambia's capital, Banjul. Samsudeen Sarr, Gambia's deputy ambassador to the United Nations, accused the person who secretly recorded him of doctoring the audio releasing just a few seconds of a two-hour-long conversation.
"I am not crazy with all my military training from across the world to advocate the shooting of peaceful demonstrators under any given circumstance for that matter. I have broadly studied military law, the rules of engagements and fully understand the implications of the Geneva Convention," he said in an open letter published in the Freedom Newspaper.
The clip surfaced on 9 May, hours after activists and the opposition claimed security forces attacked people who had gathered outside the High Court in Banjul, as opposition leader Ousainou Darboe appeared for a court ruling.
Darboe, head of the United Democratic Party (UDP), is standing trial, together with 19 other activists, in connection with a protest held earlier in April 2016, that called for electoral reforms and the resignation of Gambian President, Yahya Jammeh, who has been in power since 1994. Authorities deemed the protests illegal as demonstrators had failed to obtain permission from the police and at least 50 people were arrested.
Sarr believes "anti-Gambia government dissidents" in the USA and Europe were behind the protests aimed at overthrowing the government which, he said, had been overwhelmingly voted into office. He also rejected allegations that UDP secretary, Solo Sandeng, died while being held in detention.
"From the video footage circulating online about the so-called demonstration on April 14, led by Solo Sandeng, there was nothing he said that suggested anything like demanding for electoral reform in the Gambia. That desperate excuse was a last resort of justification after the ultimate UPRISING failed dolefully. Solo for all I heard him saying in the video footage was his aggressive demand for a change of the government, period," Sarr continued.
"That is why when this clown from Pennsylvania came to my office [in New York] asking about why Sandeng was killed in a peaceful demonstration I instantly put it to him that it was a foreign sponsored UPRISING to bring down the APRC [Alliance for Patriotic Reorientation and Construction] government.
"My position was clear and will never change in that if I am in charge of any military or police operation in a country where a bunch of useless thugs are paid and released in the streets to render the society ungovernable without their consideration of how many people could lose their lives in the process, using deadly force will not be ruled out in my master plan."
Jeffrey Smith, an international human rights consultant who has worked with Gambian activists, believes Sarr's alleged remarks were not surprising. He told IBTimes UK: "These odious, though not entirely surprising remarks, now give the international community valuable insight into the mindset of Gambia's top government officials. That one of Gambia's top diplomats has openly endorsed the killing of peaceful protesters should, once and for all, dispel of any remaining notion that the Jammeh regime is capable of governing in a responsible or humane manner."