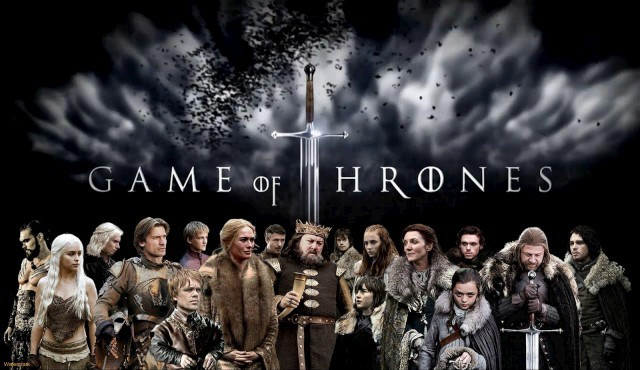 With an average of more than 10 million viewers per episode in the US alone, significant awards claimed and a third series in production on an average budget of $60m (£39m), it's hard to imagine that there is an underbelly of critics out there dubbing it a "sprawling mess".
Granted, the critics who claim to hate the TV adaptation of the George RR Martin Ice and Fire series of books, which he sold nine million of in just the last year, seemingly watch every single episode as soon as it goes on air, but they do mention some "flaws" which only highlight the fact that the epic fantasy TV offering has beaten all the odds in becoming one of the most successful TV shows of all time.
The series, which is adapted from hundreds of characters crafted in a world that rivals JRR Tolkien's Lord of the Rings, has had to mould and shape relationships and scenery to accommodate a wide audience.
Landscape is key

Martin famously said that once he sketched out a map of his world of Westeros and Essos he "knew it was over".
The epic tome features a whole new world that has hundreds of tier 1, 2, and 3 characters, regions and storylines spread across an eye-wateringly detailed universe.
The TV adaptation has to weave characters from all over this world into a coherent and relatively fast-paced plot.
In terms of timescale, characters travelling from some of the key locations such as Winterfell and Kings Landing would take months to get there. Daenerys Targaryen, the mother of dragons, would take years crossing a desert.
In TV, this simply wouldn't work.
As my colleague Alfred Joyner illustrated in the series 2 review, Dan Weiss, who produces the show with David Benioff, spoke of the challenges involved in filming a show of such magnitude.
"To my knowledge, a story of this scale has never been told within filmed entertainment. There are so many characters and locations and storylines, so many things that are atypical in television - and for good reason. You could do this show relatively easily with twice the money that we have, then after a couple of great seasons it'd collapse under its own weight and cease to exist."
In what seemed like an effortless rewrite of the screenplay, which Martin was instrumental in engineering, the show wove storylines, battle scenes, struggles and strivings and, of course, timescale with a speed and tenacity that if you didn't read the books you would never know was not in the series.
Key characters in the book are littered throughout the vast world of Westeros and beyond and some do not interact or directly take part in War of the Five Kings - the struggle for the iron throne - that is the main story arc for the series.
What the TV series has managed to do is build, shape and develop major characters such as Jon Snow and Daenerys Targaryenand keep them very close to the heart of the story, despite not interacting with the other core characters.
What we've then experienced is a sheer multitude of juicy storylines, dialogue, new worlds and events that make the series even more rich and vibrant.
Characters and relationships
One of the lynchpins for the success of the books and the series is the sheer complexity of each and every character. Series 2 took off after series 1 fully established personalities and ambitions and allowed that series to culminate in a sublime finale after a the "Blackwater" penultimate episode.
Strong women figures are thickly peppered throughout the series and match the men in terms of ambition, ruthlessness and aggression.
As with the logistical nightmare that Martin faced in adapting the books, changes here and there were needed in order to make the show watchable. However, small changes all over the shop does make a big difference.
Take the matriarchal key figure of Catelyn Stark (Michelle Fairley) from House Tully. In the TV series she was about 20 years older than she was in the books which meant that the relationships and age of the other main protagonist, Ned Stark, had to be reworked.
Daenerys Targaryen (Emilia Clarke)is originally sold off to Khal Drogo at the age of 12, in keeping with medieval culture. There's a high level of sex in the literature but putting this on screen would undeniably not go down well.
Changes in birth dates means that timelines, meetings and character interaction have to be carefully reconstructed.
With characters spread all over the place and new ones being added to every episode, we see significant foundational changes that technically changes the course of the storyline.
Arya (Maisie Williams) and Lord Tywin (Charles Dance), for example, are matched and paired for a large portion of series two. That does not feature in the books but what it does create is a sharp exchange of witty dialogue that makes the series so delectable.
However, what makes series 2 work even better than the first series and which has undeniably shaped the show into one of the most successful franchises of all time, is the weaving of thematic storylines across each episode - whether this is the role of women in society, religion and magic, or family honour.
Too little or too much fantasy?
Despite the series being a fantasy, most of series 1, like the books, only showed fantastical elements a few times and hinted at the horror for the rest. Only until series 2 have we been treated to a smattering of dragons, Whitewalkers and dark arts.
But the lack of physical manifestation of fantasy on screen was a challenge that could have made or broken the blockbuster. Fantasy has had a lot of bad rap over the years and sometimes it is warranted.
Unlike blockbusting films Lord of the Rings and Harry Potter, TV fantasy series are usually full of cheesy action shots, lazy characterisation and cheap fantasy imagery.
Where Game of Thrones succeeded while others failed comes from a core construction of fear.
While it does sprinkle some beautiful and terrifying imagery of magic and glimpses of the Whitewalkers and dragons, Game of Thrones largely relies on verbally creating a scene of the monster in the closet and what horror lies behind it, rather than machine-gunning the audience with mythical creatures.
The tasteful and tantalising approach has allowed fantasy fans, historicy nuts and wider audiences enjoy the show from all angles, without alienating other viewers.
Again, foundational changes and added plot points aided the show in demonstrating the fantastical element. Episodes like Valar Morghulis, Blackwater and The Prince of Winterfell all demonstrated the sublime use of CGI, battles scenes, fantasy and horror worthy of a cinematic production.
So despite the critics, it is clear that the TV adaptation has beaten all the odds and manifested itself as one of the most original and beautifully crafted pieces of TV history.