Game Of Thrones season 6 premiere is just a month away and actor Liam Cunningham, who plays Ser Davos, has hinted at many more deaths in the upcoming season. As the HBO fantasy series is known for killing off its lead characters – like Jon Snow's shocking stabbing in season 5 finale – it only makes when the actor teased that there will some more disappointments going ahead.
Warning: Potential spoilers ahead
Liam Cunningham, in an interview with TV Line, while speaking about the season 6 script, admitted that nobody is safe on the show. He said, "When I was reading these scripts, there's a certain kind of bizarre new philosophy to what they're doing. It's different this year. There's some very different stuff. There's quite a few new people. There's quite a few people going this year — as there is every year, to be fair."
"I'm not speaking out of shop when I say that. But I was astonished at the numbers. [Laughs] ...It's one of the things that makes the show so interesting: the fact that nobody's safe. Anybody can go at any time," he added.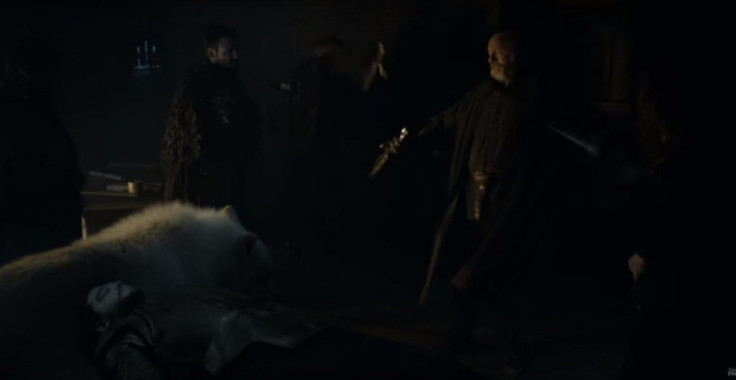 The actor also dished on the scene in the trailer where a possibly dead Jon Snow lying beside the wolf ghost and Davos pointing a sword towards it. Cunningham did not give away as much as some may have expected, but joked about the scene. When asked about the Kit Harington's body in the trailer, the 54-year-old actor said, "I was in a great spot at the beginning of that, because a lot of girls would have been jealous of the position I was in. They'd have given me a lot of money."
Speaking about the sword, he casually remarked, "I do frequent Twitter. Somebody did accuse me of wanting to behead Ghost. Is that what you're talking about? They saw a sword, me, and Ghost in the shot and went, "Is he going to kill Ghost?!" ...The term 'clutching at straws' does strike me."
Cunningham also hinted at a possible alliance between Melisandre and Davos, and how the two saw some potentials in Jon Snow. He shared, " There's one or two things that's going to happen. First of all, they are very, very strange bedfellows, as they say, but they are in a very weird situation. For two people who have an abhorrent dislike of each other, they're both in the same boat. We both lost Stannis. We both lost our reason for being in the show. Also, both of us have found ourselves leaning towards Jon Snow."
"She has seen something in the flames about this dude. I have found, while talking with Stannis to Jon, that this guy is a fellow traveler. He's the real deal. He's a good guy. He's definitely got leadership qualities, and he has a heroic and charismatic quality to him. Davos will obviously be drawn to that kind of character. Davos isn't a leader." he added.
As the trailer suggests, Davos and Melisandre are both in Castle Balck, to which the actor said: "So [they are ] both in Castle Black, in a terrible spot in the same s**t, and they hate each other. It's brilliant drama. Brilliant! What a set-up. It's a series by itself!"
With theories about Jon Snow's resurrection and Melisandre's offering/sacrifice to The Lord of Light in exchange for Jon Snow's life, Liam Cunningham's statement does hint at the possibility that Snow may indeed may return from the dead. To know whether or not the beloved character will return in Game Of Thrones season 6, watch the season, which premieres on 24 April on HBO.