Game Of Thrones is full of actions and twists in season 6. After Jon Snow's shocking resurrection in episode 2, the HBO fantasy series delivered another huge moment featuring Daenerys Targaryen.
The episode ended with a massive twist when the Khaleesi and widow of Khal Drogo burnt Khal Moro and his men alive inside the temple of Dosh Khaleen. Thousands of Dothraki were stunned watching their leader burning alive in the inferno.
But before they could blink, Dany emerges from the blaze unharmed and naked. Her goddess-like appearance made the entire Dothraki clan bow down to her. No doubt, the massive moment gave goosebumps to many fans but at the same time it sparked a debate about its authenticity while adapting A Song of Ice and Fire, the bestselling novel written by George R.R. Martin.
During one of his fan interview, Martin had denied the mother of the dragons' fire immunity, calling it a "common misconception". "Targaryens are not immune to fire. The birth of Dany's dragons was unique, magical, wonderous, a miracle. She is called The Unburnt because she walked into the flames and lived. But her brother sure as hell wasn't immune to that molten gold," he had said.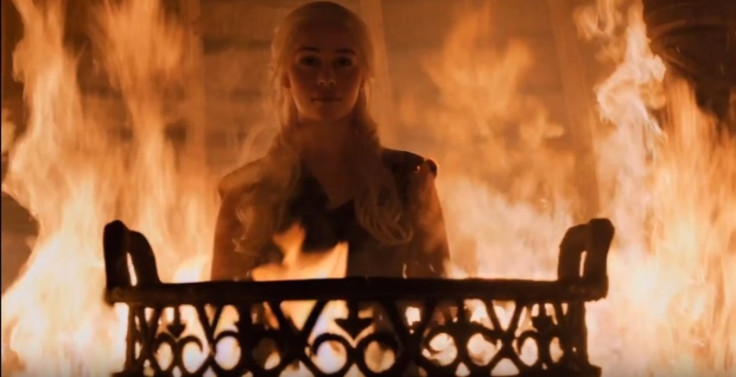 Taking a cue from his statements, fans are divided over Dany's fire immunity. While some think she is the only Targaryen with the unique magical quality, others think none of the clan is unburnt.
The show has deviated from the book multiple times and D.B. Weiss, the writer of the show, considers the moment as a huge accelerator in storytelling. "The act of stepping out of that burning temple in which all the Dothraki power structure had just perished pretty much makes her the queen of the Dothraki in one fell swoop," he told Mashable.
The war is looming large over the Seven Kingdom and the latest scene bestowed huge power on the Khaleesi, which might decide the tide of the narrative in future.
Game Of Thrones season 6 will return on 23 May on HBO.