The countdown until Game of Thrones season six is firmly underway. The highly anticipated, brand new episode of the blockbuster series airs this Sunday (24 April) and, though cast members haven't been seen on our screens for a year, they're still the talk of the town. Owen Teale, who plays Ser Alliser Thorne in the HBO fantasy drama, has made a shocking new claim that people approach him in public and beg to be abused in the style of his Game of Thrones character.
Though the Welsh actor plays the ultimate villain in the hit TV show, fans still want a slice of his egregious treatment and come up to him on the train to receive some live GoT action. He told Radio Times: "People love the character. They come up to me on the Tube and ask me to abuse them: 'Could you call me a 'bah-sted', I want to record it? Say it with real contempt.'"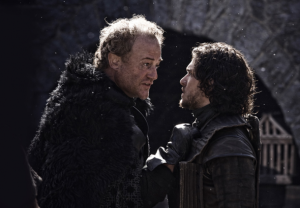 He cited that viewers don't just see Ser Alliser Thorne as purely a panto-style rogue, continuing: "He doesn't sit around cooking up evil plans. He thinks he knows what is right. His is a cynical, joyless version of the world - we are made from bad stuff."
The 54-year-old star also divulged that filming scenes in a rainy quarry in Belfast helps him bring out the sinister side of his character. He went on: "Castle Black is a permanent set filmed in this disused quarry not far from Belfast. And it rains and rains."
"Once you're in the quarry you can't get to your comforts as an actor - to the caravans, to the food wagon; and they just keep you in there.
"When it rains it takes two people to put that enormous cloak on me and once it gets wet it probably weighs my own weight again, which is about 15 stone.
"So it's a bleak, horrible situation, often with me standing up to my ankles in water. But I think it helps. This is what Ser Alliser thinks the world is like," he added.
Despite GoT garnering widespread success all over the world, Teale wasn't so convinced the show would do so great when he first took on the challenge.
He revealed: "I didn't believe it would work in the beginning, anyway - I thought it was too unwieldy, too close on the heels of the Tolkien trilogy. But look how wrong I was," he said.
Radio Times magazine goes on sale today (19 April).