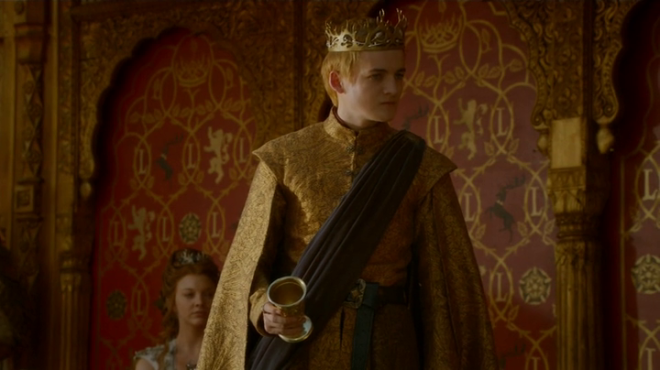 Game of Thrones season 4 is just three episodes old but the shock quotient keeps getting higher.
After the Purple Wedding shocker it is time for some revelation of the actual killer and some brutal sex (read rape) scene involving the twins Cersei and Jaime.
The Breaker of the Chains begins with Cersei mourning Joffrey's death as Tyrion is captured by the royal guards and Margaery is in a state of shock.
But the killer is soon revealed as Sansa is ferried away from the King's Landing by Ser Dontos. He takes Sansa to board a ship where the real killer is revealed, who is none other than Littlefinger aka Lord Petry Baelish.
Cersei and Jaime are seen mourning Joffrey's death in the most awkward fashion by having sex beside their dead son's corpse (though it looked like Jaime was literally raping his twin sister).
Meanwhile a traumatised Margaery shares her grief with Lady Olenna:
"One of my husbands preferred the company of men and was stabbed through the chest. Another was happiest torturing animals and was poisoned at our wedding feast. I must be cursed."
The episode also reveals Tommen as Joffrey's heir and as per George R.R. Martin's novels, Margaery might marry him in order to fulfil her dream of becoming the Queen and grab control over The King's Landing. No wonder she is the most hated person for Cersei.
As each of the Thrones episodes offers more bloodbath and brutality the official synopsis of the HBO fantasy series reveals some spoilers for the upcoming episode Oathkeeper.
The synopsis reads: "Dany balances justice and mercy. Jaime tasks Brienne (Gwendoline Christie) with his honor. Jon secures volunteers while Bran, Jojen (Thomas Brodie-Sangster), Meera (Ellie Kendrick) and Hodor (Kristian Nairn) stumble on shelter. Written by Bryan Cogman; directed by Michelle MacLaren."
The next episode of Game of Thrones will showcase Daenerys's wisdom for judgment as she will balance between justice and mercy after she takes over the slave city Meereen. Meanwhile Tywin will declare Tyrion as the murderer of Joffrey.
Check the promo of the upcoming episode here.

The Game of Thrones Season 4 Episode 4 Oathkeeper will be telecast on 27 April on HBO. Keep watching this space for more scoops and updates on your favourite show Games of Thrones.