We flew to Italy two weeks ago. Our baby vomited generously over herself and me at Gatwick Airport. No one at Gatwick fancied clearing it up. It could still be there now for all I know. We packed all the kids' knickers in a side-pocket of the suitcase and only found them on the last day.
When we arrived at 9pm on day one, we realised we really should have picked up milk on the way to the house. Needless to say, at the point, I still stank of sick. We clearly need some expert help, so I asked a few travel-blog families what they know. Reassuringly they all report travel catastrophes and most involve vomit.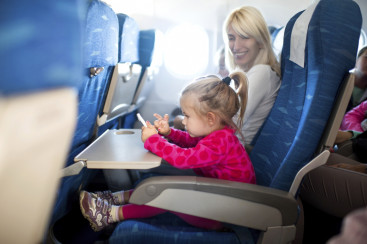 My favourite story comes from Karen at Mini Travellers. Their daughter was sick over herself and both parents 10 minutes into a four-hour coach transfer from Tignes to the airport. Unfortunately, the smell sparked contagion and made the child in the next row sick too. They were left stripping clothes off their twins to keep their daughter warm while surrounding parents were quietly cursing them.
Sarah at Family Travel Times has a shocker of a tale about travelling with two kids while she was very sick herself and the flight was delayed. She describes sitting rigid with nausea, unable to entertain the kids and feeling utterly useless.
Travel With Bender goes beyond sick with a tale of a poo calamity in a theme park in Malaysia. Which almost competes with the time our daughter bashed her, erm, bottom, on the side of a pool in Thailand, horrifying other hotel guests with gushing blood. For the rest of the holiday my husband was heard dodging concerned questions from witnesses by muttering about her "pranging the Volvo". Which no one understood but did shut down enquiries.
At this point, you may be giving up on the idea of taking your kids abroad at all. But they all say, as well they might, that this is worst option.
Erin Bender puts it as "a tantrum on a Caribbean beach with crystal waters and white sand is much better than one in your home in the suburbs. Well at least the scenery is more pleasant". Sarah at Family Travel Times says that while it does get easier as they get older, it is best to start young.
They do concede that travel increases the risk of stress and chaos at the very time you are investing your money in relaxing. Their solutions are terribly sensible.
Mummy Travels says: "Pack spare clothes for yourself as well as your little one. Babies have impeccable timing when it comes to explosive nappies [halfway through the security line], travel sickness or just flailing food and drink all over the place."
Tamara at We3Travel adds that antibacterial wipes and hand sanitiser are essential for wiping down grubby surfaces and cleaning up messes. Kate Williams, deputy editor of Mumsnet.com, says to do your online research first. Mumsnet was, of course, set up in response to co-founder Justine Roberts's disastrous holiday with small kids.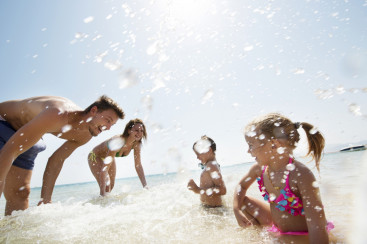 Mummytravels.com also urges advance planning – "There's nothing worse than being at 35,000ft and realising you have no snacks or the battery's flat on CBeebies." Well there was the time one of ours kept throwing her heavily sucked soft-toy bunny over the chair in front where it landed damply on a bald Frenchman's head. You can imagine his delight when he found himself sitting next to us on the return.
The key, they all say, is to give yourself plenty of time. Back to Tamara at we3travel.com, who says not to book too much in so that everyone ends up cranky and tired and doesn't want to try things again. Travelwithbender.com says: "Go slow. Pace yourself."
In terms of keeping the kids happy, the answers are clear: ice cream, a pool and animals. From penguins, to husky dogs and our kids' desperate desire to return to Cyprus to visit an inflatable shark slide. Friends of ours with two little girls returned from holiday recently saying: "Why is that wherever we go in the world these days, we always end up staring at a donkey?"
So there you have the advice. Pack spare clothes, embrace the power of the clean-up, do your planning and love those animal experiences. It doesn't solve the problem of the lost knickers but, if you wear your swimmers every day, who cares?
Christine Armstrong is a contributing editor of Management Today, author of Power Mums (interviews with high-profile mothers) and founder of www.villas4kids.com. She can be found on Twitter at @hannisarmstrong.