Online gaming site Fruity King has compared Leicester City striker Jamie Vardy to a Jewish concentration camp inmate from Holocaust movie Schindler's List.
The betting app tweeted a topless photo of the Premier League striker with the anti-Semetic caption: "Jamie Vardy looking like an extra from Schindler's List".
The tweet has been reported to Twitter but still appeared as IBTimes UK published this story, 23 hours after it posted.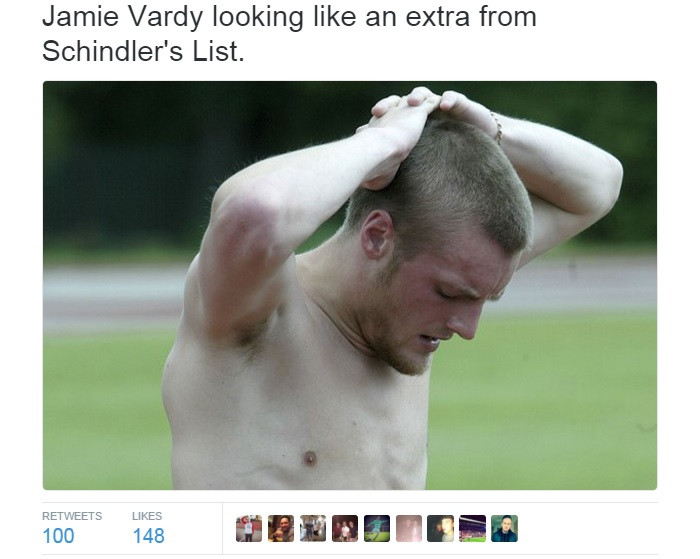 The Oscar-winning movie was based on the novel Schindler's Ark, a Booker Prize-winner by Australian novelist Thomas Keneally that was published in 1982. It tells the story of Oskar Schindler, a Nazi turned humanitarian hero who saved 1,200 Jews from concentration camps in Poland and Germany.
Twitter users reacted furiously to the post describing it as "abhorrent", "disgusting" and "the worst Tweet ever". "You're just awful. I know you can't afford a social media manager but at least employ a decent human being to do your tweets," said Ollie Philip.
Matt French, a fan of Tottenham Hotspur, said: "seriously? Comparing someone to a holocaust victim is not acceptable! Someone needs to apologise immediately!"
FruityKing.co.uk says its was established to "provide quality entertainment to people who enjoy gambling...in a safe, fun, fair, regulated and secure and enjoyable online gaming experience possible".
The latest Tweet is not the first time it has posted offensive comments online. In January it was derogatory about Manchester City midfielder Yaya Toure's wife, as well as making controversial comments about Adam Johnson and Donald Trump.
"It was a joke, and no offense [sic] was meant," Fruity King said in a statement before following up a day later with: "We apologise for any offence caused."