Garissa University attack 1 month on: Somalis feel scapegoated in a counter-terror operation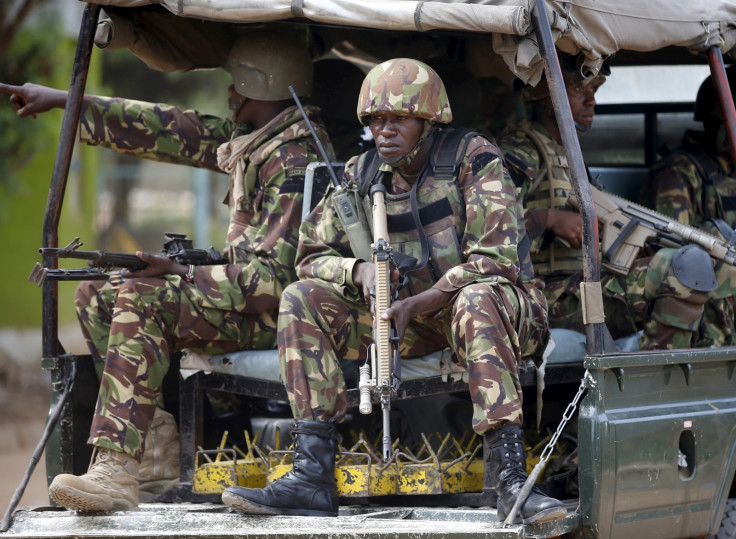 One month on from the deadly attack on Kenya's Garissa University College by militant group and Al-Qaeda offshoot, Al-Shabaab, that killed 147 people, the Somali community is facing the fallout from the government's counter-terror operation.
After the attacks, Kenyan President Uhuru Kenyatta faced mounting criticism over his government's failure to tackle a growing domestic terror threat and vowed to take harsh measures against the Islamic militants, including the closure of the Dadaab Somali refugee camp, and an uptick in surveillance of Somali communities in Nairobi.
"We will fight terrorism to the end," Kenyatta told the country in a nationally televised address on 4 April, two days after the attack. "I guarantee that my administration shall respond in the fiercest way possible."
Economic impacts: Somali businesses down 65%
Kenyatta launched a crackdown on 500 nongovernmental organisations – including 15 for alleged "fundraising for terrorism" - and shut down 13 money-transfer services.
Transfers are vital to the survival of many Somali refugees and the Somali community inside and out of Somalia as they rely on remittances for food, school and basic health care – and cutting off that channel is already having disastrous consequences.
Mohammed Abdirisak, a 22-year-old student and member of the Somali Community Association Organisation in the capital Nairobi describes a "very intense" situation.
"Somali community businesses are down by around 65% because of the government [decision to] close all the Somali banks which were opened here in Nairobi, and that actually created a huge problem for the Somali Community"
- Mohammed Abdirisak
While the government claims this measure prevents militant Islamists from using them to finance attacks, aid agencies say the closure has hit poor Somalis hardest, adding that local businesses managed by Somalis and Kenyans of Somali origin have suffered, losing more than half of their income.
"Since that operation, Somali community businesses are down by around 65% because of the government [decision to] close all the Somali banks which were opened here in Nairobi, and that actually created a huge problem for the Somali Community because most of them they get money from the outside of the country whether it's America or European countries," Abdirisak told IBTimes UK.
Somalis face persecutions, harassment and disaperances
Kenyans of Somali origin told IBTimes UK about arbitrary arrests, harassment and ill-treatment.
Rawlings Otini, a local journalist at the Daily Nation, Kenya's largest newspaper, describes how the government's so-called anti-terror measures have resulted in Somalis feeling persecuted in the country's north-east districts - close to the Somali border, and Garissa.
"Some guys who live in Garissa, who are actually Kenyans of Somali origin, feel that they are being harassed for no apparent reasons," Otini told IBTimes UK from Nairobi.
"They are being arrested, kept in cells for long periods of time before being released. The government does not have a real defined approach to fighting terrorism: they just react on every attack, then keep quiet and do nothing. Then attacks [happen] again, and they overreact. These are just reactions without any organised approach to solving the problem."
In Nairobi, Laetitia Bader, researcher at Human Rights Watch's Africa Division, told IBTimes UK knee-jerk reactions from the authorities to terror attacks have resulted in "security operations", new policies and directives, and legislations "which have been increasingly restricting the space for Somali refugees in this country".
In terms of security operations, Bader outlined a "series of attacks" from March 2014, and "a very clear targeting of the Somali population" in the predominantly Somali and Kenyan-Somali district of Nairobi of Eastleigh.
"(Somalis) are being arrested, kept in cells for long periods of time before being released."
Rawlings Otini
There, the advocacy group documented "several weeks of very abusive security operations by the Kenyan police on Somali businesses, ordinary people going on their daily lives being arrested on a regular basis, detained for long periods of time in awful conditions". Bader confirmed she had also received reports of "disappearances".
Rachel Nicholson, campaigner at Amnesty International's Nairobi office confirmed the organisation has also received "countless reports of harassment and extortion" by the Kenyan police, adding the Kenyan government operation doesn't necessary differentiate between Kenyans of Somali origin and Somali refugees in terms of the experience.
"Life is very difficult for Somalis and Somali refugees in Kenya," she told IBTimes UK from the Kenyan capital. "I think there is a lot of fear among the Somali community, as a result of the crackdown. We have seen what happened in previous crackdowns, and there is this climate of xenophobia and prejudice in Kenya which I think can fuel this crackdown and the sort of response – and make these populations feel very insecure."
Integration, not marginalisation to fight terrorism
In the eyes of Bader of Human Rights Watch, these accounts are "incredibly worrying", but she says they follow a trend of stigmatising and marginalising a community which might be very important for the security peace forces to carry out investigations against terrorists.
"For the moment, however, they are stigmatising Somalis rather than building good community relationship with them."
Student Abdirisak says he has not yet faced harassment, but puts this on the account that "most of my friends are Kenyans and we all know that Al-Shabaab are just like other terrorists and terrorists have no religion or nationality".
Combating the stigma is one thing, but young Somalis are also desperate to try and stop fellow Somalis from joining terror groups.
To this end, members of the Somali Community Association have been paying from their own pocket to organise seminars with Somali students, with whom Abdirisak says he "will negotiate with [and discuss] how we will together stop these al-Shabaab terrorist".
"We always talk about how we will stop our community from joining evil deeds such as pirates, immigrants and terrorists, because these days our community is becoming the most popular people who are doing these evil deeds and we are try, as a Somali Community Association, to change those wrong, preconceived ideas," he explained.
Unpopular drastic measures
The government's populist measures appear to be the way for the Kenyan authorities to show they are "doing something when in fact what they are doing is very questionable", Bader explained, adding there has been very little proper prosecution or convictions for any of the serious attacks.
"It is questionable what impact these populist measures are actually having and how much they are actually improving the security on the ground," she said.
Meanwhile, Abdirisak believes Kenyatta's government needs to negotiate with elders of the Somali Community and take actions to unite students, for instance, by organising seminars about peace in schools and universities.
At national level, the government's measures are proving not to be very popular, as journalist Otini describes the ineffectiveness and cost of the latest decision to build a wall on Kenya's notoriously porous border with Somalia.
The works, which began in April, have the intent to keep out illegal immigrants from Somalia as well as al-Shabaab militants, the government said in February.
"This is a very expensive operation, and the Kenyans doubt we can afford that at this moment. Still, people feel it is going to add very little to the efforts to combat terror because the guys who killed [students in Garissa] are actually Kenyans. So the government is not likely to achieve much by doing that [wall]," Otini said.
The ball is now in the court of the security forces to show that they can protect and carry out protective lawful operations, Human Rights Watch's Bader added.
© Copyright IBTimes 2023. All rights reserved.