Gay Evangelical Christians: 'We Won't Be Shedding Crocodile Tears For Fred Phelps'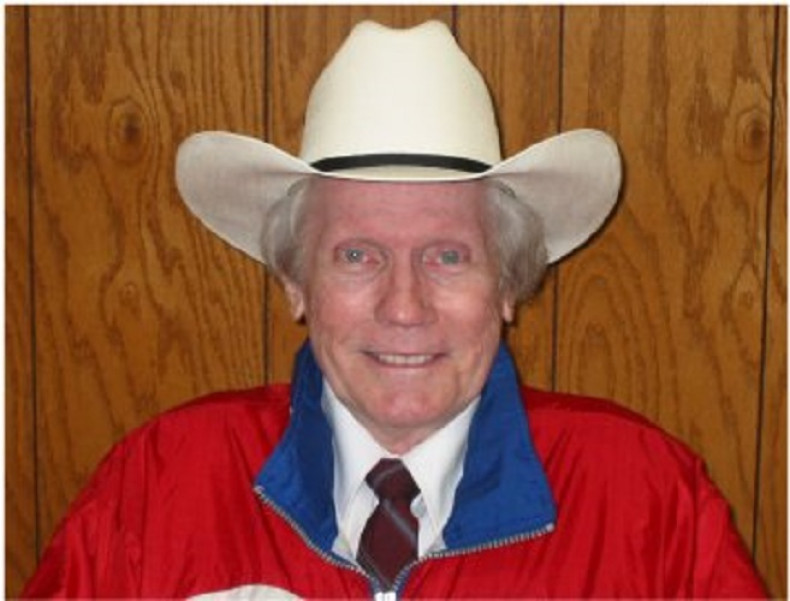 The death of Fred Phelps, the former leader of a US church which was widely known for its inflammatory anti-gay stance, has not caused many to shed a tear this week.
Phelps was head of the Westboro Baptist Church, which didn't turn its attention to homosexuality until two decades ago – yet his infamous slogan "God hates fags" made worldwide headlines.
Phelps and his family first garnered national attention when they picketed the funeral of Matthew Shepard, a gay college student who was beaten and tortured in a field in Wyoming in 1998. In 2005, Phelps' group began picketing the funerals of homosexual soldiers who died in Iraq.
With these headlines, a stigma of gay hatred has formed around evangelical organisations – both in the US and the UK. Alongside such groups, however, exist a different strain of Christian group – those whose members not only accept, but welcome and encourage the LGBTQ community.
Speaking to IBTimes UK, Jeremy Marks, from the Evangelical Fellowship, explains why not all Christian groups should be tarred with the same brush.
Marks, who has been working with LGBT Christians for 26 years under the Courage banner, told us: "No evangelical Christian would agree with his views – he was a complete nutcase. He is a pariah in any group. We don't want to be hateful, but we won't be crying crocodile tears.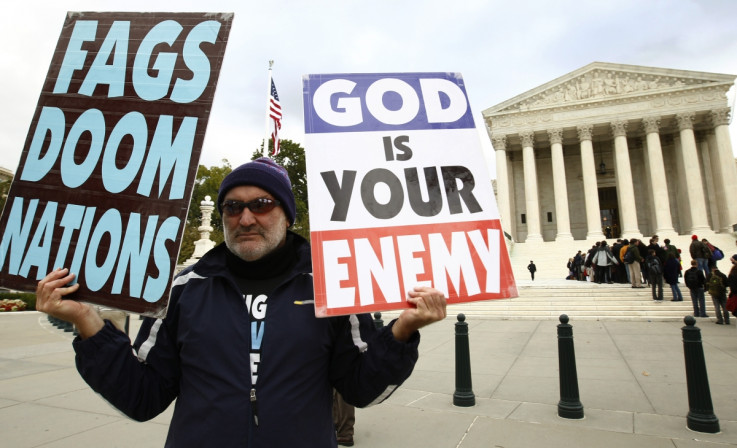 Fred Phelps spread the shock slogan "God hates fags"
Reuters
"Essentially, we want to provide a safe environment for gay Christians. The primary concern of the Evangelical Fellowship is pastoral care for LGBTQ Christians, and we offer two weekend conferences per year and several local support groups meet in the UK."
The aims of the organisation, as listed on their website, are to support evangelical Christians who are homosexual, as well as those seeking to explore their sexuality. In addition, they also help other Christians re-evaluate their understanding of sexuality.
Other organisations, such as Accepting Evangelicals, go even further. The two groups differ, according to Marks, as the latter is "more of a pressure group, working to educate Christians to take a more biblically balanced view of the issues and a more compassionate accepting view of LGBT people in particular."
But despite steady progression towards a more willing acceptance of gay Christians, most organisations remain vehemently homophobic.
Marks said: "There is no doubt that the significant majority of evangelical Christians are anti-gay. They are imprisoned by their way of reading the bible. To them, homosexual relations are a complete travesty – they have no room for manoeuvre, but this is gradually changing."
What about the current hot topic, the so-called gay conversion therapy? In recent months, several US states have made moves to ban the practice, while the American Psychiatric Association deemed such therapy "potentially harmful".
In the UK, the Royal College of Psychiatrists stated the therapy simply encouraged prejudice against the LGBT community. In a report, they commented: "There is no sound scientific evidence that sexual orientation can be changed. Furthermore, so-called treatments of homosexuality create a setting in which prejudice and discrimination flourish."
According to Marks, this phenomenon has migrated – so to speak – from the US.
"Some hope that there might be a way to change, but such 'therapies' are not really popular in the UK. Some organisations disguise their anti-gay views by offering 'healing prayer for the sexually broken'."
Support for the Evangelical Fellowship, as well as other LGBT Christian organisations, is growing. However, the group has received a backlash of anti-gay abuse. Marks said: "In the early years, we had next to no support, as there was very little time for the LGBT community.
"We may have recived verbal support but in real terms, many churches were – and still remain – very suspicious. We receive verbal abuse sometimes. For example, when people email us trying to demand we give accounts for our heretical views the hostility is virulent."
The Evangelical Fellowship for Lesbian and Gay Christians will hold a conference from 21st to 23rd March at Holland House, Cropthorne, Worcestershire.