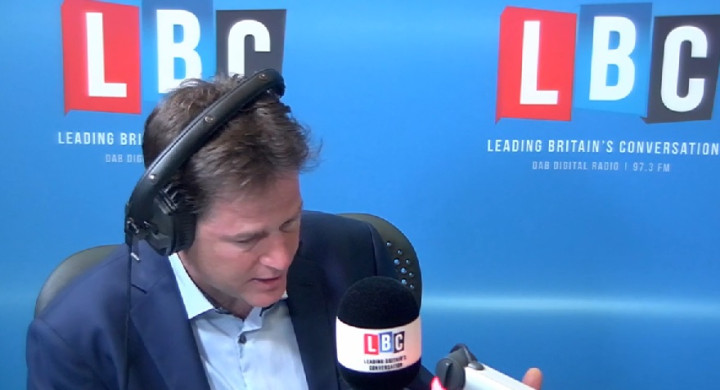 Nick Clegg has said Britain should revoke all sales of military equipment to Israel if the current ceasefire in Gaza breaks down.
The deputy prime minister added any existing licensing for arms which have already been approved should be suspended, if it is found the weapons lead to "significant" suffering.
Speaking on LBC Radio, Clegg said the government is in discussions to impose stricter restrictions on arms exports to Israel and that he hoped for an announcement "shortly".
Britain has signed off on 130 exports to Israel since 2010 on items such as drone parts and ammunition at a cost of £42m, according to documents obtained by the Campaign Against Arms Trade (CAAT).
Clegg was speaking after former Foreign Office minister Baroness Warsi announced her resignation because of the government's "morally indefensible" stance on the Gaza conflict.
Under international law, arms export licenses cannot be granted if the weapons are used for "mass humanitarian suffering".
"We must respect the strict criteria laid down in law," he said. "We must look at what's happened in Gaza to see if those criteria were breached.
"If it's shown those criteria were breached, then never mind suspending those licences, they would have to be revoked."
Clegg added there have been no new arms export licences granted since the start of the Gaza conflict last month, but reiterated there would be a complete suspension if the current 72-hour ceasefire, now in its final day, were to break down.
He said: "I think it is crystal clear that it would be unacceptable to the British people and wholly wrong for us to do anything other than immediately suspending any existing licences if that ceasefire were to come to an end and violence were to break out again."
He added: "This is something we are discussing in Government right now and I hope we can make an announcement, I believe we will be able to issue a sort of tougher approach to all of this, which can give the British public confidence that we stick to the rules by which these licences are issued."
The announcement comes after the prime minister was criticised for not taking a firmer stance against Israel following the shelling of three UN-run schools in Gaza.
In her resignation letter, Warsi condemned the government's "approach and language" during the conflict, adding she "must be able to live with myself" for the decisions taken and supported while in government.
"By staying in government at this time I do not feel I can be sure of that," she added.
Clegg said he and the prime minster "clearly" have different views on his stance on Israel.