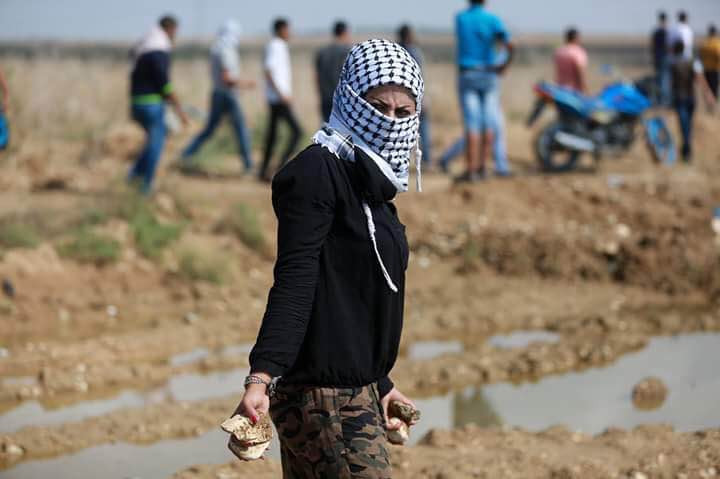 With a black-and-white keffiyeh wrapped around her head, black shirt and camouflage trousers, Mervat Abdel-Qader looked like any protester on Friday when she gathered in the no-man's land that separates Gaza from the Israeli border to throw stones and roll burning tires at the Israeli soldiers stationed nearby.
But there is a reason that the gangs of youths that confront Israel across the West Bank, Gaza and Jerusalem are known by the Arabic word, shabab, meaning young men or boys. Women are an extremely rare presence on the frontline of Palestinian protests, especially in uber-conservative Gaza, run by Islamist group Hamas.
So it is little surprise that Abdel-Qader's presence at the deadly protest near the heavily fortified border with Israel raised eyebrows when she was caught on camera by local media on Friday. Six protesters were killed and more than 130 injured as Israeli Defence Forces (IDF) allegedly fired live rounds, and still more were killed and injured the next day.
In the video, Abdel-Qader can be seen rallying the men before they charge towards what appears to be an Israeli military position close to the fence that separates the Gaza Strip from Israel on three sides.
Abdel-Qader, speaking for the first time about her role as a young woman on the frontline of Gaza's rage against Israel, admitted that when the bullets began flying she was nervous, but the events in Jerusalem – which has seen a wave of violence, Palestinians banned from the Old City and restricted access to al-Aqsa Mosque – had made her angry enough to join the protest.
"Israeli soldiers opened fire with live ammunition just a short distance away. I saw a man's brains blown out right in front of me," she says from her home in Gaza City.
Unlike in the West Bank, where there is a heavy presence of Israeli soldiers and checkpoints quickly become flashpoints for violence, there is officially no Israeli military presence in Gaza and so protesters coalesce close to the metres-high concrete wall and barbed wire fences that surround the strip. It is common for soldiers stationed on the wall and watchtowers as well as in military positions in no man's land to fire on Palestinians that come too close.
"I did not imagine that it would happen. I went to protest, to express my anger and my love for Jerusalem. I was close to the wall and heard a soldier shout that Arabs were dogs and make offensive signs at us. It was real hate that I felt," she said.
Abdel-Qader and a second female protester were told to leave by the boys but when they refused, they were tasked with rolling burning tires towards the boundary wall in order to disrupt the vision of snipers, she said.
Abdel-Qader was three when she lost her sister, who was 12 and had been sent out to the shops by her mother to buy milk. She had caught up in a protest against the Israelis – which then occupied by the Gaza Strip – and was shot dead by a sniper. Her brother was killed in an Israeli air strike in 2000, when he was also 12.
"I felt after that like we Palestinians are alone. Nobody cares if he are killed or burned. Even the Arabs don't take action to stop them murdering our children," she said.
"That's why I protest: to show the whole world that we are not going to keep silent facing death. We are not going to let our brother and sisters fight alone. If this is the third intifada, then we are part of it."
But that is only a part of Abdel-Qader's struggle. Since Hamas took over the Gaza Strip in 2006, society has become far more conservative in Gaza and, as a result, the presence of a young woman at the front of protests – a rarity even in the West Bank and Jerusalem – has become a contentious issue.
"My family are proud of what I am doing. But others in Gaza somehow feel that they are responsible for the lives of others. They criticise my make-up, my eyeliner and nail polish. I can't see why. I am taking action not showing off," she said. "It is time that everyone understood that resisting is not only a man's job. Women can make a difference too."