As the news anchor introduces the latest report from Gaza, Jeremy Timsit turns the volume all the way up. The television in the background of his restaurant in Sarcelles, a town of 60,000 in the northern outskirts of Paris, suddenly becomes the diners' focal point.
Gaza is more than 3,000km away but shockwaves of rockets and airstrikes have left a deep scar in this suburban community in the heart of Europe.
"It's since the conflict that's on TV started that problems have been imported into France," Timsit, 25, says. "There never were problems before."
Timsit's restaurant lies in the Jewish area of the multi-ethnic banlieue, nicknamed 'little Jerusalem' due to its melange of peoples and religions - a cocktail that exploded in an outburst of violence a couple of weeks ago, after decades of friendly cohabitation.
A few meters down the road from Timsit's restaurant, a French riot police van is stationed in front of the grand synagogue. It has been there 24/7 since an angry mob of protesters tried to storm the religious site on 20 July.
"They wanted to burn it down," says Dan Haik, a 39-year-old Jewish engineer that IBTimes UK met outside the synagogue's gated entrance.
Riots
The violence that shocked 'little Jerusalem' and the rest of France erupted on a recent Sunday, as hundreds of pro-Palestinian demonstrators defied a protest ban and took to the streets purportedly to voice their disapproval of Israel's military operation in Gaza and the bloodshed it caused.
The rally soon got out of control. Rioters went on a rampage and attacked Jewish-owned stores. A funeral home had its window smashed, while a nearby pharmacy was looted and set on fire.
Apartment flats above it had to be evacuated because of the flames and a 91-year-old woman was hospitalised after inhaling toxic fumes.
The mob then went after the synagogue, where they were faced by security forces and Jewish self-defence groups.
Anti-riot police clashed with protesters, cars were set ablaze and for a few hours Sarcelles descended into chaos. A total of 18 people were arrested.
French Prime Minister Manuel Valls condemned the violence describing it as "quite simply anti-Semitism, racism".
Although the situation in the area has calmed, it will hardly be the same again for many 'Sarcellois', as the town's inhabitants are known.
The Israeli-Palestinian conflict has polarised divisions in town, as most parts of the Jewish community are supportive of Israel's war against Hamas in Gaza, while Muslims tend to take a diametrically opposite stance.
"I'm a restaurant owner and here we serve everyone - Muslims, Catholics, Jews," says Timsit. "The problem is that today we can't talk [about the war] to anyone because the images broadcasted at the TV, both from Gaza and the Israeli side, are unsustainable. It is a shame because this conflict has nothing to do with France."
Sarcelles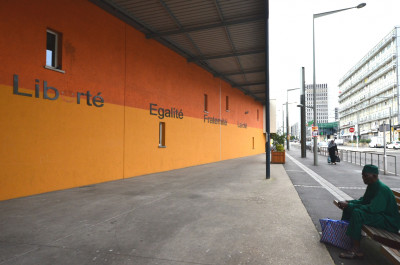 Sarcelles has been a multicultural melting pot since its population ballooned in the 1950s and 1960s, as thousands of migrants from the Maghreb and the Middle East moved into its numerous rent-controlled housing projects.
Jewish families who left Egypt, Tunisia or Morocco in the wake of the Arab-Israeli conflict, came to live elbow to elbow with Muslims from the same region and were later joined by a large community of Chaldean Christian from Iraq as well as Turks, ethnic Caribbean from France overseas territories and many others.
Up to 15,000 Jews now are said to live in this deprived suburb, making it one of the largest communities in France, which in turn is home to Europe's largest Jewish and Muslim populations.
A successful story of multi-ethnic integration, life in this Paris suburb has, for years, mirrored the 1995 movie La Haine (Hate) in many aspects.
Directed by Mathieu Kassovitz, La Haine tells the story of three friends - one Jewish, one of Maghreb origins and an Afro-French - who join forces to face the violent challenges posed by life in a multicultural Paris surburb.
In Sarcelles, people from different ethnicities have grown up and work in close contact with each other - and to many of these people it is difficult to accept what happened in July.
"The incidents touched us all, both communities," says Elie Bocaobza a 55-year-old Jew of Tunisian origins, as he sits at a bar meters away from one of the looted shops with Salem Maraghni, who is a Tunisian Muslim. "Clever people on both sides have been affected because of vermin that are also on both sides."
"Those who did that are not Sarcellois," says Maraghni, claiming rioters came from out of town. "They were junkies and people with money problem who hide behind this [the conflict in Gaza] to loot shops. They are not even real Muslims."
Unfortunately he is only partially right, as out of six people who have so far been sentenced by French courts over the violence, at least one was a Sarcelles native.
Anti-Semitism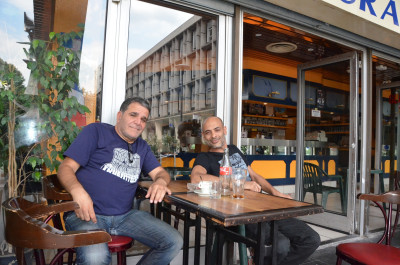 Some residents in Sarcelles say they saw the violence coming, as the war in Gaza ignited a simmering anti-Semitism that had been mounting for months.
Rumours of an attack at the synagogue had been circulating for some time, says Haik.
Interior Minister Bernard Cazeneuve said the decision to ban the protest was taken as leaflets distributed in the suburb ahead of the demonstration urged pro-Palestinian protesters to bring batons, fire extinguishers and other makeshift weapons.
"There are people who now take the liberty to do and say things that before they didn't," says Lucienne Zerbib, a 38-year-old woman who works with children at the synagogue.
One of the young girls she is looking after tells me a friend of hers was recently called a "dirty Jew" while walking down a street.
"Going out in the evening is now a bit scary," she adds.
After the riots, Zerbib says they have stepped up security and watch carefully as children arrive or leave the synagogue. "Now I stay here all the time ... it's sad," she says.
According to Haik, the situation began deteriorating a couple of years ago.
He lists a 2012 shooting, in which four Jews - including three children - and three soldiers were killed by 23-year-old French Islamist Mohamed Merah in Toulouse, as the moment when French Jews started feeling threatened.
Earlier this year, another deadly incident confirmed that the community was once again the target of extremists and fanatics. In May, Mehdi Nemmouche, a 29-year-old of Franco-Algerian origin, allegedly shot four people dead at the Brussels Jewish Museum in Belgium.
Nemmouche had recently returned to Europe from Syria, where authorities believe he went to fight in the ranks of the Islamic State of Iraq and the Levant, a jihadist group that recently declared the establishment of an Islamic caliphate in the Middle East after seizing large swathes of Syria and Iraq.
Haik says that the financial crisis that saw France's unemployment reaching an all-time record of 3.4 million people, about 11% of the workforce, also played a role in fuelling anti-Semitism.
"Some people are angry and blame the 'wealthy Jews'," he says.
As a consequence many are now afraid of showing their faith and the Jewish community in Sarcelles has increasingly closed into itself, Haik says.
"Many do not wear the kippah on the metro anymore, as it is dangerous," he says. "Most parents now send their children to a religious school instead of a public one."
Jewish associations also warned that communal tensions have also resulted in an increasing number of Jews fleeing France for Israel.
In 2011 and 2012 about 2,000 French Jews migrated to Israel, according to Newsweek.
In 2013, the year after the Toulouse attack, the number went up to 3,289. Roger Cukierman, the president of the Representative Council of French Jewish Institutions (CRIF) said he expects the 2014 figure to reach around 6,000.
Although aware of the issue, Zerbib is indignant when I ask her if she has ever considered relocating to Israel.
"I'm French, I've grown up here, I've given birth to my children here, I've built my life here and so did my parents and my grandparents before me," she says.
"Why should I leave? It's not that all Jews have to live in Israel. I'm not demanding all Christians Catholics to go live near the Vatican.
"What we need at the moment are strong and definitive rules. I love the UK for that. There are a lot of Muslims and Jews and everyone has its space with its limits. There is more security," she says.
"In France we are too kind and it's not working at the moment."