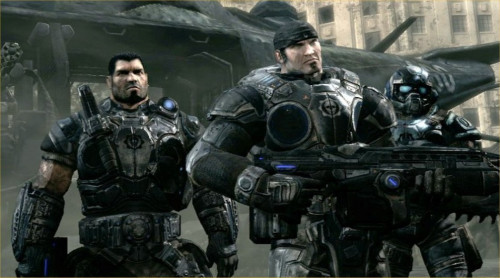 Microsoft Studios has acquired the right to Gears of War from Epic Games.
Black Tusk Studios will take over the franchise ahead of its first outing on the Xbox One, with former Epic Games Director of Production Rod Fergusson jumping ship to helm the project.
Microsoft's rights to the series extends to both past and future games in the sci-fi series.
Gears of War was Microsoft biggest original IP on the Xbox 360, spawning a trilogy followed by a prequel released last year.
Speaking of the acquisition, head of Microsoft Studios Phil Spencer said: "The Gears of War franchise has a very strong, passionate and valued fan base on Xbox. Over twenty-two million units have been sold across all Gears of War titles worldwide, grossing over $1 billion (£605m). This franchise, and these fans, are part of the soul of Xbox."
On why Epic relinquished their prized IP, Black Tusk general manager Hanno Lemke added: "Epic has been a tremendous partner to work with, and it has been a privilege for Microsoft to be Epic's publishing partner and work together to achieve the phenomenal success of the Gears of War games.
"Epic remains great partners and good friends of Microsoft Studios. In fact we will collaborate closely with Epic to ensure the inclusion of the Unreal Engine technology into the Gears of War franchise going forward remains consistent with the high quality fans have come to expect from the franchise."
A statement from Epic Games echoed the sentiment with a quote from CEO Tim Sweeney.
Regarding when we'll hear more about the next instalment, Lemke was vague, only saying "later this year". This makes an appearance at June's E3 convention in Los Angeles all but confirmed.
Black Tusk Studio was once called Microsoft Vancouver before a name-change in 2012. As well as the next Gears of War they are also working on an unnanounced new IP for Xbox One.
On his new role at Black Tusk, Rod Fergusson said: "I'm extremely excited to be joining Black Tusk Studios to oversee development on the Gears of War franchise. I've been privileged to work on a lot of great games with a lot of great teams, but Gears has had the most impact on me professionally and personally, so this really feels like a homecoming. I can't wait to share more with you all soon."