Ukip Rejects Joining Far-Right Leader Geert Wilders for European Parliament Elections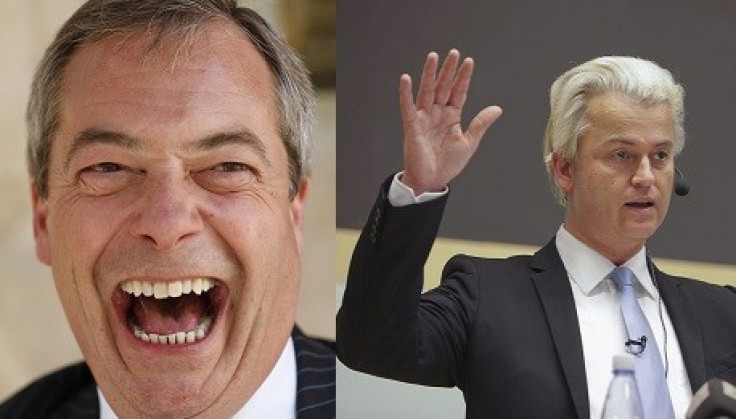 A number of European political parties including Ukip have rejected controversial Dutch politician Geert Wilders' plans to form a rightwing alliance ahead of next year's European elections.
Wilders, leader of the far-right Dutch Party for Freedom (PVV), has met leaders of like-minded groups across Europe to form a grouping to run in the May 2014 elections.
According to Euroactiv, Wilders had talked to the Belgian Vlaams Belang, the French National Front (FN), the Swedish Democrats, the Italian Northern League and the newly formed German Alternative.
Wilders told Dutch public broadcaster NOS that he planned to form the coalition to bring together a party who are "against the European Union and against mass immigration".
Wilders said he had not asked extremist and racist parties to join his movement, and cited Hungary's Jobbik and the British National Party (BNP) as beyond the pale.
Ukip and Sweden's Eurosceptic Democrats said they had no intention of joining the controversial leader of the fourth-biggest political party in the Netherlands.
"Ukip is not rightwing but a libertarian party which believes in small government, low taxes, personal freedom and responsibility under a democratic national government, not under Brussels rule. Ukip are not involved in this initiative by Geert Wilders," a spokesperson said.
Martin Kinnunen, for the Swedish Democrats, added: "Our party has not joined the alliance. "We have met different parties to get more information but it is hard to say anything at this stage as we don't know which parties will participate."
It is believed the Italian Northern League have also rejected the proposals.
The Group of the European Right operated in European Parliament between 1984 and 1989. It consisted of MEPs from the Italian Social Movement, the Greek National Political Union, the French National Front and later by the John Taylor of the Ulster Unionist Party.
It was chaired by chaired by FN leader Jean-Marie Le Pen.
According to polls, the PVV looks set to gain its highest number of votes in the forthcoming Dutch elections.
© Copyright IBTimes 2023. All rights reserved.