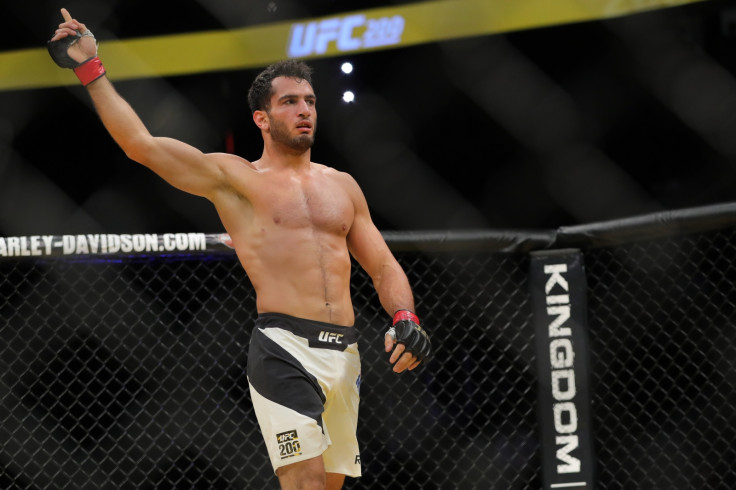 Gegard Mousasi is targeting Michael Bisping's UFC middleweight gold after exacting swift revenge on Uriah Hall on Saturday (19 November).
The Dutch mixed martial artist was surprisingly beaten by a devastating spinning kick/flying knee combination during a first meeting in Japan last September, but was not to be denied at Belfast's SSE Arena, as he chalked up his fourth successive win courtesy of an emphatic first-round technical knockout.
Mousasi is currently the company's fifth-ranked middleweight, behind the likes of Luke Rockhold and former opponent Ronaldo "Jacare" Souza.
Yoel Romero shot to the top of the pile with a brutal KO of former champion Chris Weidman on the undercard of Conor McGregor's historic defeat of Eddie Alvarez at UFC 205 last weekend, although "The Dreamcatcher" now appears to have added his name firmly to a congested title mix.
"Whoever has the belt, I'm coming," he said after the fight. "I need an elimination fight or a title shot."
Mousasi was originally due to face Bisping at UFC Fight Night 84 in February, only to later take on Thales Leites as the veteran Briton instead headlined the London show with a superb victory over Anderson Silva.
Recently addressing his chances of beating Bisping in an interview with The MMA Hour, the Tehran-born 31-year-old said: "People ask me questions, they ask me if I can beat Michael Bisping. Of course, I can beat Michael Bisping. I used to say, 'Yes, Michael Bisping is great, I would love to fight him, he's a great fighter, blah, blah, blah.' All that respectful sh*t don't work, you know?
"Michael Bisping is a good fighter, but he's also a good trash talker and is probably making double what I am making, even more probably now that he's champion. Not because he's a better fighter than me.
"I believe I'm a better fighter than him and I think my record and everything has proven that. I fought Dan Henderson, you saw how I beat him. And even at this age, Michael Bisping went five rounds with him. If I would fight Michael Bisping, I would be the favorite. Everybody knows that."
Romero called out the current champion after ruthlessly dispatching of Weidman and Bisping, who successfully defended the belt he sensationally took from Rockhold on short notice against old rival Dan Henderson in October, admitted earlier this week that he would likely face the Cuban in spring 2017.
UFC president Dana White had initially proposed a 20 January bout in Anaheim, although Bisping claimed he would prefer to let a couple of lingering injuries heal and spend Christmas with his family instead of being holed up at another training camp.