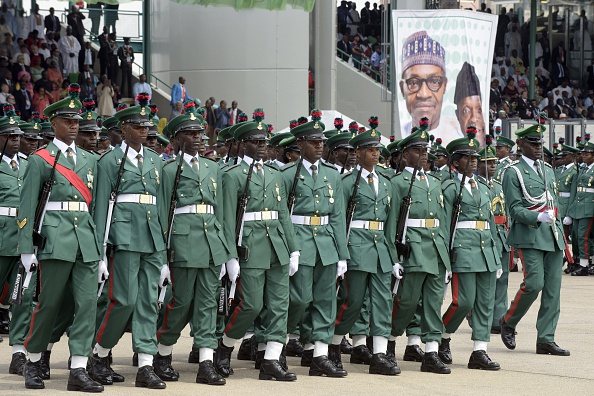 The Nigerian government has rejected allegations of war crimes against an army general recently reinstated within the army, a government defence spokesperson told IBTimes UK. Rabe Abubnakar said that major general Ahmadu Mohammed, who was reinstated this month, fit all the criteria to be part of the military.
"Every organisation has its on rules and regulations, code of conduct and procedures," he said. "If mistakes have been done somewhere, the military of that country should correct it."
Abubakar made the comment as Amnesty accused the Nigerian government of failing to tackle impunity for war crimes after reinstating Mohammed, allegedly involved in the extrajudicial killing of hundreds of detainees. In 2015, Amnesty released a report warning that Mohammed and other eight senior commanders were suspected of being involved in crimes against humanity committed by the military during the fight against Boko Haram terrorists. The rights group said that Mohammed was in command of 7 Division, created to fight the terrorists, when the military executed more than 640 detainees following a Boko Haram attack on a detention centre in Giwa barracks, Borno state, in March 2014.
According to the report, more than 7,000 detainees had been starved, suffocated and tortured to death in military detention camps since March 2011. Furthermore, another 1,200 were unlawfully killed. Following the report, Nigerian President Muhammadu Buhari said he would personally look into the allegations. Shortly after, General Mohammed was retired following mutiny by some soldiers under his command. However, he was reinstated in January. Abubakar said the military reinstated about 3,000 personnel previously dismissed as it was not possible to prove they were guilty beyond any reasonable doubt.
"The allegations made by Amnesty International remain allegations unless they are proven beyond any reasonable doubt," he said. "Nobody can be charged with allegations and if there is any proof, then the relevant authority will investigate."
When asked on whether Mohammed would be investigated or not, Abubakar said: "No competent court in the world can investigate on mere allegations. Every rule must be followed before you convict someone."
Nigerian military must be applauded
The Nigerian army is leading a regional offensive, consisting of 8,700 troops from Nigeria, Niger, Chad, Cameroon and Benin, against Boko Haram. The offensive has scored some successes, such as the recapture of key territories and the recovery of arms and vehicles used by the terrorists during their attacks. Although Boko Haram still carries out deadly attack in northeastern Nigeria and neighbouring countries, Abubakar believes the military should be praised for its effort.
"There have been serious accusations against the army and the police, is it to offend our nation? " he asked. "We see all this as distraction. We should be applauded and praised for what we have done in the fight against Boko Haram. This is not a national problem and all nations must join us to ensure a full eradication. "We are state actors and this group [Amnesty] is not a state actor, " he continued. "We are constitutionally empowered and trained to protect our citizens. Mohammed was recalled because he fulfilled the requirement."
Amnesty's response
Abubakar also claimed that following the 2014 report by Amnesty, the Nigerian government invited the rights group to take part in a joint investigation on the allegation. "We constituted a committed and we extended an invite to Amnesty, but they rejected the call," Abubakar explained. "If someone invited you, why do you reject the call? What does it mean?"
Speaking to IBTimes UK, Daniel Eyre, Amnesty's Nigeria researcher, confirmed that, in August 2014, the organisation was asked to participate an investigation by the military into the allegations.
"We had already provided comprehensive information at the time so we were not able to participate any further into the investigation,"Eyre said. "Our evidence included a copy of the video showing military beheading Boko Haram suspects, public documents including more than 400 interviews with witnesses, victims, human right defenders and military documents. We published incredibly detailed evidence showing that people at the top of the military knew about what was happening in the northeast and did not take action to prevent those crimes."
Eyre also explained that Amnesty praises the Nigerian military for this achievements in its fight against Boko Haram. However, he added the international community should not turn a blind eye to "horrific violations by the military."
He added: "There is a need to stop the people we have named from being in command and that's why we are appalled by the decision to reinstated general Mohammed. The government of President Buhari needs to start taking first-hand evidence that can be used for a criminal prosecution."
---
Nigeria up close: Check out our Flipboard magazine
---