UK General Election: Prime Minister Theresa May could resign within hours
Embattled Prime Minister under intense fire from her own party.
The spectacular failure of Theresa May's gamble of a snap general election to bolster the Conservative's slender majority in Parliament has put her in a near untenable position.
The sun was yet to rise on Friday 9 June before whispers of her imminent demise were emanating from her erstwhile, infuriated colleagues in the Tory party.
BBC political editor Laura Kuenssberg told the the broadcaster's general election results show that top Tory insiders had told her that it was "50/50 she will go on Friday."
Speculation is already mounting as to who could replace May as leader of the Conservative Party, which if predictions are correct, will not command a majority in the House of Commons.
The gamble has led bookmakers Paddy Power to appeal to other gamblers and list the odds as to who could replace her. The favourite according to the bookmakers is the foreign secretary, Boris Johnson at 2/1.
Accepting victory in her constituency of Maidenhead, Theresa May said that if Conservatives had won the most seats and most votes, "it will be incumbent on us to ensure that we have that period of stability, and that is what we will do."
Cult of personality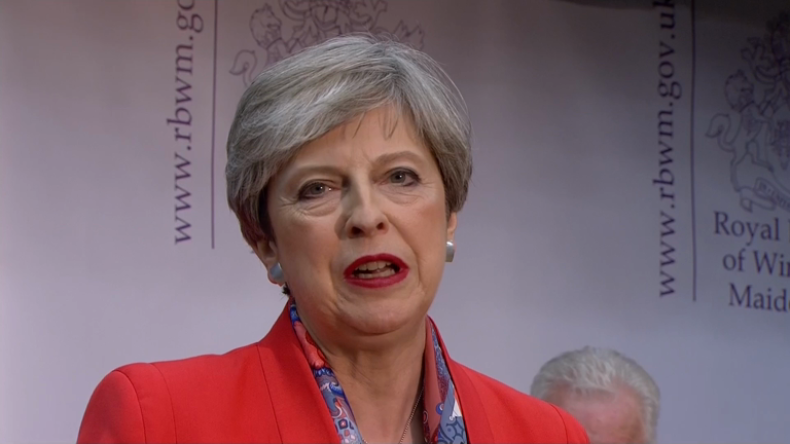 One senior Tory told The Telegraph: "This is bad, it's worse than bad. Her advisers should walk out of the door now never to return, regardless of the final result.
"They should be banished forever. Can she hang on? [Theresa] has zero credibility if this exit poll is correct. The very best we can get tonight is to end up where we were. The cult of personality and central control has completely blown up in our face."
Senior Conservatives said this morning that she had made "fundamental strategic errors" and said that her closest aides should be "banished" from Downing Street.
They complained that the campaign had been centred around a "cult of personality" and "central control", adding: "It has completely blown up in our face."
The former chancellor George Osborne, who was sacked by May last year, was one of the first senior party figures to react to the result, saying if the exit poll were correct it would be "catastrophic" for the Tories and the prime minister personally.
Dubbed on Twitter "the MP for schadenfreuden," he also described the Conservative manifesto as "one of the worst manifestos in history" and expressed disappointment that the party was perceived as turning away from metropolitan liberal voters.
"It's difficult to see, if these numbers are right, how they would put together the coalition to remain in office," he said on ITV. "But equally, it's quite difficult to see how Labour could put together a coalition. It's on a real knife edge."
Osborne went on to suggest that Boris Johnson, the foreign secretary, would have "a little smile on his face right now" given the boost to his chances of taking over as Tory leader.
Referring to her comment about the naughtiest thing she had done as a child, Osborne also joked: "The worst thing she's done in her life is no longer running through a wheat field."
A delighted Jeremy Corbyn, the left-wing underdog, has called on May to quit as the prime minister after a night of misery for the Conservatives.
Corbyn, speaking in London after retaining his Islington North seat with a thumping majority of more than 33,000 votes, said the British electorate had voted for hope and "turned their backs on austerity."
If there is a message from tonight's result, it's this: the prime minister called the election because she wanted a mandate.
"Well, the mandate she has got is lost Conservative seats, lost votes, and lost confidence. I would have thought that's enough to go, actually, and make way for a government that will be truly representative of all of this country."
The Conservatives are set to be the largest party but without an overall majority according a joint BBC/Sky/ITV exit poll, which indicated the Tories will win 314 seats and Labour 266.
The poll suggest Britain is heading for a hung parliament, with Conservatives 12 seats short of the 326 they need for an absolute majority in the Commons.