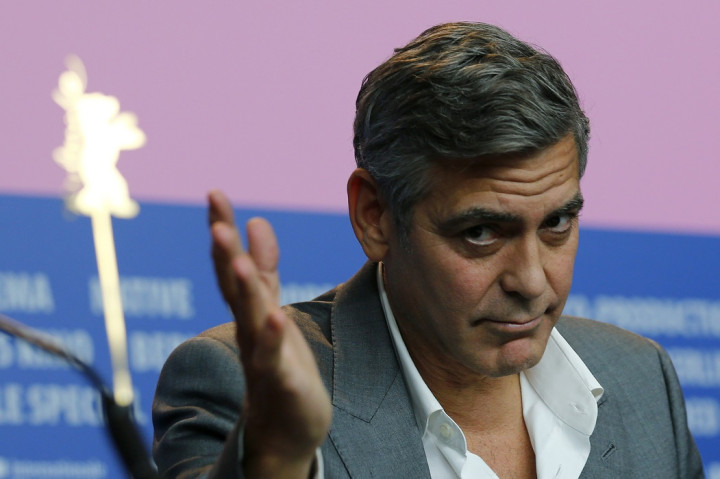 George Clooney could be the latest actor to follow in the footsteps of Hollywood legends Ronald Reagan and Arnold Schwarzenegger and enter a career in politics, sources speculate.
The 53-year-old Ocean\'s Eleven star is apparently considering running for governor of California in 2018.
The Sunday Mirror reports that Clooney, who campaigned for President Barack Obama and counts the president as a close personal friend, is a favourite with members of the US Democratic Party. He has even been tipped as a possible Democratic candidate in the 2022 Presidential race.
If George were to become governor of California, it would put him on course to follow Ronald Reagan\'s lead, who after becoming governor in 1967, became the 40th President of the United States in 1981 and served two terms.
If the Oscar winner eventually won the 2020 race for the presidency his fiancée, human rights lawyer Amal Alamuddin, would become the first British First Lady of the United States.
A friend told The Sunday Mirror: \"George is hugely popular with the Democrats and where better place to put him than as the Governor of California, the home of Hollywood.
\"It has always been a huge stronghold for the party and one that has a proven record for getting politicians into the Oval office. Now that Amal is by his side it has boosted his credentials even higher.\"
Clooney, whose father was a political journalist, has described himself as a liberal. He has strong political views and has spoken out on several global political and human rights issues.
He told CNN journalist Larry King: \"I\'m a liberal. I\'m confused when that became a bad word. I think what happened over a period of time probably in the late 1980s when it became sort of a political tool. The liberal movement morally, you know, has stood on the right side of an awful lot of issues. We thought that blacks should be allowed to sit at the front of the bus and women should be able to vote, McCarthy was wrong, Vietnam was a mistake.\"
In previous interviews Clooney has spoken about his parents\' political views. \"My parents were the biggest liberal Democrats. They both voted for George McGovern. My dad, who went after Opec for raising gas prices and Gerald Ford for pardoning Richard Nixon, believed it\'s your responsibility – not just your right –to question authority.\"
In 2006 he made an impassioned speech to the UN Security Council appealing for a resolution to the violence and human rights violations during the war in the Darfur region of Sudan. He was arrested for civil unrest at a demonstration outside the Sudanese embassy in 2012.