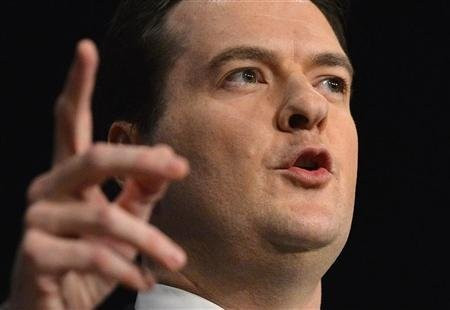 Chancellor George Osborne says he will reinforce Britain's financial regulators with a number of new powers, despite a warning from the Bank of England against over-burdening banking watchdogs.
The Parliamentary Commission on Banking Standards, which was set up in the wake of the Libor fixing scandal, recommended that 'reckless bankers' should serve time in jail and that regulators should have more powers to claw back remuneration.
Osborne pledged to adopt these recommendations, and grant the BoE's Prudential Regulation Authority (PRA) the task of promoting competition in the financial sector.
"Cultural reform in the banking sector marks the next step in the Government's plan to move the whole sector from rescue to recovery and ensure that UK banks demonstrate the highest standards, and are able to support business and drive economic growth," Osborne said.
However BoE Deputy Governor Paul Tucker has told MPs that the Government should be careful of giving regulators too much to handle.
"Beware of asking the regulators to do too many things in one body," Tucker told a Treasury Select Committee hearing,
Andrew Bailey, chief executive of the PRA, told the same committee that he supported the idea of encouraging more competition in the banking sector, but the Financial Conduct Authority (FCA) has already been given this remit.
"My reservation about giving us a statutory objective on competition is that the FCA already has one," Bailey said.
"I want to avoid tripping over the FCA. If you have two bodies out there promoting competition we would have to work out how we did that."
He added: "There is no lack of willingness on my part on this."
Before Osborne gave his endorsement to some of the tougher PCBS proposals, Labour had accused the government of not going far enough in its Financial Services (Banking Reform) Bill and tabled its own amendments.
"[David] Cameron promised to amend the Banking Reform Bill to implement the Parliamentary Commission's report, including its recommendations on deferring bonuses and criminal penalties for reckless misconduct. But for all the tough talk, he and George Osborne have totally failed to do so," said Ed Balls, shadow chancellor.
"The Conservatives are ducking the radical reforms we need and which the cross-party commission has called for."