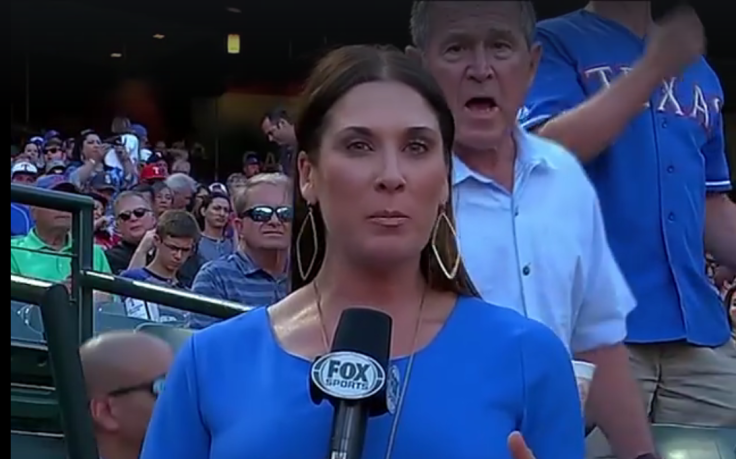 Since leaving the White House back in 2009, George W. Bush has had a relatively quiet lifestyle out of the political limelight, working for charities and doing plenty of painting.
But his cheeky nature was on show, albeit for a split second, when he went to watch a baseball game in Texas.
With a drink in one hand, the former president was walking up behind a Fox sports presenter who was talking about the upcoming game when he shouted out "hey" at her.
Unflinching, it seems the reporter carried on without realising who had just walked behind her, carrying on with her pre-game preview.
Playing at the Global Life Park, the Texas Rangers managed to beat the Phillies 9-3 to take the win.
Since he moved away from active politics, Bush has engaged in a number of different charities.
He has been working to raise money for wounded veterans returning from service in Iraq and Afghanistan, both operations he played key roles in orchestrating.
Having served as US president between 2001 and 2009, these days Bush is known for his painting, which he recently combined with his charity work to create a book showcasing veterans he has depicted over the years.
Bush has also been working alongside his predecessor Bill Clinton to help those caught up in the devastating earthquake in Haiti in 2010.