A German Jewish group has called on an auction house to cancel the sale of Nazi memorabilia, including Hermann Goering's silk underpants, labelling the auction "disgusting". The Central Council of Jews are alarmed by the Munich auction set to take place on Saturday 18 June at the Hermann Historica auction house.
The auction includes a number of high-value items such as X-ray images of Goering, the founder of the Gestapo secret police, and the brass container he used to kill himself with hydrogen cyanide just two hours before he was due to be executed in 1946 in Nuremberg.
Another item included in the lot is the Nazis' investigation into reports on Hitler's health after a failed assassination attempt on 20 July, 1944. The items are expected to fetch thousands of euros.
President of the council Josef Schuster slammed the sale saying the idea of "making business, without any limits, with items of Hitler, Goering and Eva Braun" was "scandalous and disgusting. He said according to national news agency DPA: "Such items belong in museums or archives, they should not be sold for profit."
The items went on public display on Friday 17 June under the title "Hitler and the Nazi grandees - a look into the abyss of evil". The collection belonged to late US army medic John K. Lattimer, who was in charge of monitoring the health of Nazi war criminals during the Nuremberg trials.
The auctioneer's website says: "Also of historical importance are Hitler's long black trousers whose pockets were leather lined so that he could carry a gun unobtrusively with him".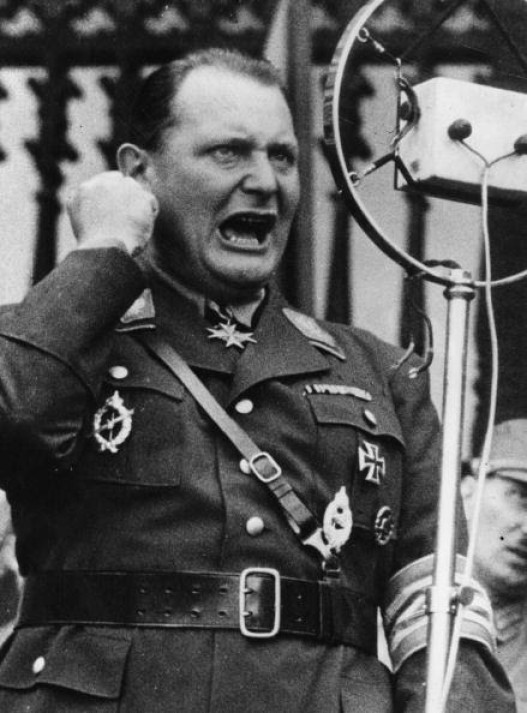 Although it is illegal to display and distribute of Nazi objects, slogans and symbols it is legal to buy or own Nazi objects, for example by researchers and collectors.
Two rare copies of "Mein Kampf" signed by Adolf Hitler sold at auction in Los Angeles for $64,850 in February 2014. Hitler, an artist before he became a politician, produced many paintings in his lifetime and his Watercolours can typically fetch tens of thousands at auction.
On Friday 17 June a former guard at Auschwitz was jailed for five years after being found guilty of being an accessory to 170,000 deaths at the concentration camp during the Holocaust. The 94-year-old Reinhold Hanning was found guilty following a trial in the German city of Detmold after prosecutors argued he was complicit in the deaths for not acting as tens of thousands were killed in front of hi