Germany: 60 suspected far-right extremists arrested after discovery of neo-Nazi Facebook network
Police operation comes as Germany sees rise in violence from far-right groups in wake of refugee crisis.
German police have arrested 60 suspected far-right extremists after conducting its first ever nationwide operation against hate speech. Morning raids in all but two of Germany's 16 states on Wednesday (13 July) targeted dozens of properties thought to be connected with extremist groups promoting Nazism and anti-Semitic views on social media.
One group under investigation was said by officers to have violated a number of German laws, including the glorification of Nazism and exchange of "xenophobic, anti-Semitic or other far-right extremist content".
Its members, from the southern state of Bavaria, were alleged to have used a secret Facebook page to exchange "hate messages" and far-right material.
The operation follows the work of a specialised German police unit in the Federal Office of Criminal Investigations (BKA) which began working in December of last year to combat what officers said was a "substantial rise" hate speech posts on social media.
Holger Münch, head of the BKA, said: "Today's action makes it clear that police will act firmly against hate speech and incitement on the internet. Hate speech must not poison public debate.
"Attacks on refugee shelters are often the result of radicalisation which begins on social media. We therefore need to halt the coarsening of language and consistently pursue criminal content on the net."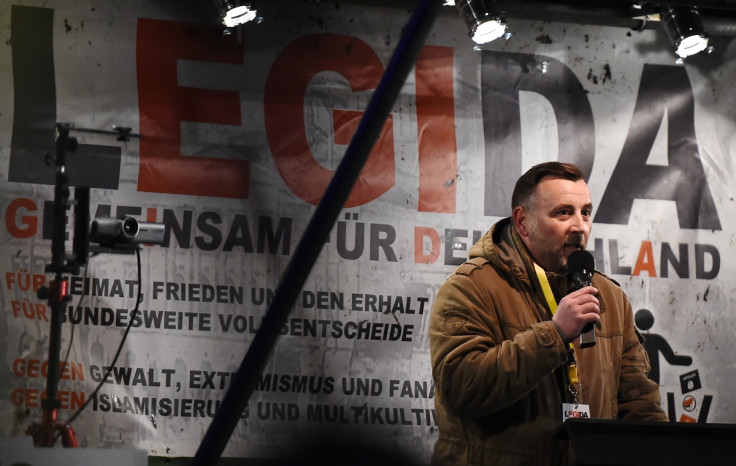 Under German laws, inciting a person to commit violence against others due to their ethnic religious backgrounds can carry a prison sentence of up to three years. The refugee crisis and subsequent rise in immigration into Germany has seen protests in a number of the country's cities over the past few years, as well as attacks on refugee centres.
Last year some 1,408 acts of violence perpetrated by the the far-right were recorded, compared to 990 the previous year – a 42% increase. A report from the Federal Office for the Protection of the Constitution, published last month, also noted 75 arson attacks on refugee shelters in 2015 – a fivefold increase on 2014.
Anti-immigration rallies have also been a concern for police and mainstream political parties, with one protest by anti-Islam movement Pegida drawing tens of thousands of supporters to the streets of Dresden last year.
Pegida's leader, Lutz Bachmann, was since fined €9,600 (£8,050, $10,650) when he was found guilty inciting racial hatred after calling refugees "cattle" and "scum" in a series of Facebook posts.
"Extremist groups, whatever their orientation, are gaining ground in Germany," interior minister Thomas de Maiziere said last month. "Security forces observed not just a rise in membership but also an increase in violence and brutality." Following Wednesday's arrests, he added: "Violent language is unacceptable and lays the groundwork for real violence."
© Copyright IBTimes 2023. All rights reserved.