When watching the latest trailer for Paul Feig's Ghostbusters reboot, did you find yourself becoming jealous of Melissa McCarthy, Kristen Wiig and company as they zapped evil spirits into oblivion with their proton packs? Well, turns out you don't have to be green-eyed for much longer, as Sony have announced that they've "successfully perfected" the development of the iconic machines, that "capture ectoplasmic matter and content from a parallel dimension" for real.
"The Proton Pack<sup>TM is equipped with a state-of-the-art, miniaturized superconducting synchrotron, which accelerates injected protons from a hydrogen plasma cell," the corporation explained in a statement. "Superconducting temperatures are maintained by a liquid helium reservoir, and an active cryocooler ensures that operational time vastly exceeds that available from a cryogen dewar alone.
"Adaptive beam-steering technology guides the proton beam to an ergonomic wand, which doubles as a beam-halo tuning cavity to provide maximum down-range accuracy. The backpack form factor allows built-in psychokinetic grounding to the user's spinal column, eliminating spectral noise feedback loops."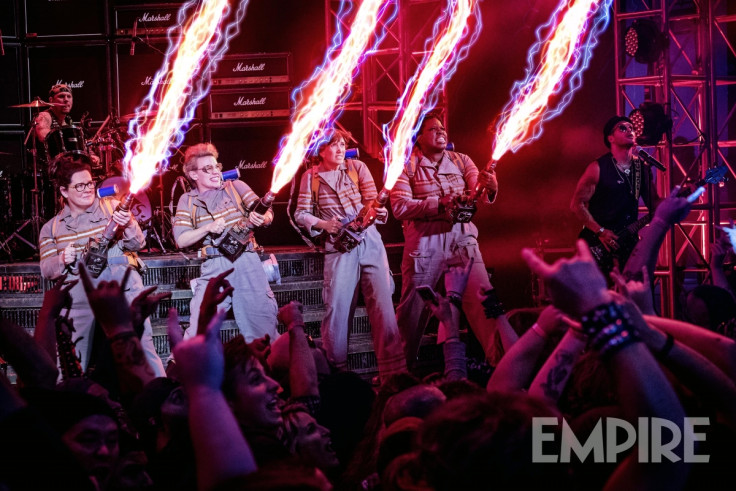 Sony went on to explain that each pack "incorporates the same STAMINA Mode featured in Sony Mobile Communications' latest Xperia smartphones, allowing its user to keep the battery going longer". Additionally, they're both "water and slime-proof". And if that wasn't enough, you will allegedly be able to connect with them wirelessly "to other Sony products such as BRAVIA® televisions and XperiaTM smartphones to view, forward, and share entities, redefining the terms image capture and screen grab". Bonus.
If you can't wait to get your hands on the real-life Ghostbusting gear though, you'll have to just wait for the film to get your fill of the super-cool devices. In it, Wiig, McCarthy, Leslie Jones and Kate McKinnon take the lead as the titular gang, who are needed when New York City falls prey to ghosts from various different places and times as the Victorian garment-clad ghouls suggest in the new trailer.
McCarthy plays paranormal researcher and supernatural scientist Abby Yates, while Wiig portrays physicist-turned-paranormal investigator Erin Gilbert. SNL alum McKinnon plays crazy-haired, and even crazier-goggled, nuclear engineer Jillian Holtzman. Meanwhile fellow SNL actress Jones stars as Patty Tolan, the street-smart addition to the team who acts as the group's eyes and ears on the ground. Chris Hemsworth also appears as the team's geeky receptionist Kevin.
The Proton Pack™ will reportedly appear in the US on 15 July 2016, the same day that Ghostbusters is released in both UK and US cinemas.