Better Call Saul will return with its much anticipated season 3 on 10 April at 10pm EST on AMC Network. The third season will bring Jimmy McGill closer to his alter-ego Saul Goodman as the promo shows the lawyer being arrested.
The second season ended with Jimmy confessing to his brother Chuck about forging his Mesa Verde document as we found out that Chuck had recorded their entire conversation. A teaser for the upcoming season features a policeman asking Jimmy to look straight for his mugshot as it says, "Criminal. Lawyer"
Breaking Bad actor Giancarlo Esposito will also reprise his villainous character. Esposito, who played mob boss Gustavo Fring, will return for the prequel series and the 58-year-old actor is "extremely excited" to play the character again.
He told AMC: "I'm extremely excited. I'm over the moon. I love this family of filmmakers a great deal. I know Better Call Saul is a little bit of a different show than Breaking Bad was and I love the success it's had. It has such wonderful talent in the show. Bob Odenkirk is just stellar."
The spinoff series will tell the backstory of Gus, as the actor added: "Obviously the opportunity to tell some of the backstory of Gus and how he rose to power and how he came to be is always something I've wanted to explore in a very subtle way in the right venue. For me, it's a perfect marriage and blend of a show that not only is great dramatically but also has some comedic elements as well."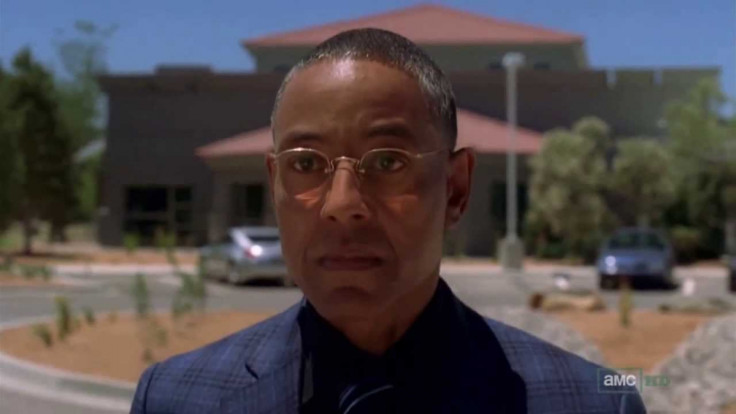 The actor also teased the Mike and Gus connection in Better Call Saul season 3. He said, "I think one of the big excitements of the season is for the fans to see the connections between Mike and Gus. To see how Mike becomes an intrinsic part of the operation and to see a younger and more spry. Hector Salamanca, where the hatred for Hector grew and how Gus gained the favor of Juan Bolsa possibly over Hector."
"I think the fans are going to be really excited to see how great a manipulator, and how grateful and stealth a business man Gus is. And they're going to be really excited to see how he starts to take things over," he added of his character.