The Foreign Office has issued a strongly-worded warning after a Spanish state research boat, the Angeles Alvariño, carried out "irresponsible" and "dangerous" manoeuvring in Gibraltar waters, potentially placing the lives of Royal Navy personnel at risk.
Europe Minister David Lidington contacted Spanish Foreign Secretary Gonzalo de Benito about the incident, which took place yesterday (Sunday 5 October) - the latest in a line of similar incidents around the disputed territory.
"The irresponsible actions and dangerous manoeuvring of this vessel were not only unlawful but also presented a significant risk to the safety of Royal Navy personnel at sea," said Lidington. "Under no circumstances should Spanish vessels be provoking a situation that could result in serious injury or a fatality."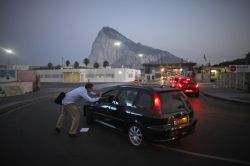 Britain has long taken seriously any incursion of Gibraltar waters by the Spanish, who consider the 4 km peninsula belongs to them. In April the same Spanish state research vessel - accompanied by a police boat - resulted in Spain's ambassador to the UK being summoned to the Foreign Office.
The Foreign Office is also checking claims that Spanish jets came close to a commercial plane coming in to land at Gibraltar airport on 19 September.
Last year Spain, angry at the construction of an artificial reef which it said was adversely affecting its fishermen, tightened up border crossings between Gibraltar and the mainland. The checks resulted in lengthy queues both for Gibraltarians and for Spanish workers attempting to reach the territory.
David Cameron asked the European Commission to investigate Spain's actions, claiming they hindered the free movement of people. However the Commission disagreed and ordered the two countries to work together to resolve their differences.
"The waters around Gibraltar are indisputably British," continued Lidington. "We will continue to take whatever action we consider necessary to uphold British sovereignty and the interests of Gibraltar, its people, its security and economy."
Britain has claimed Gibraltar for 300 years and in the most recent referendum 99% of people voted to remain British.
The chief minister of Gibraltar Fabian Picardo said: "The waters around Gibraltar are as British after an incursion of this type as they were before. Nothing is achieved except needlessly risking mariners' lives and wasting precious Euros on diesel."