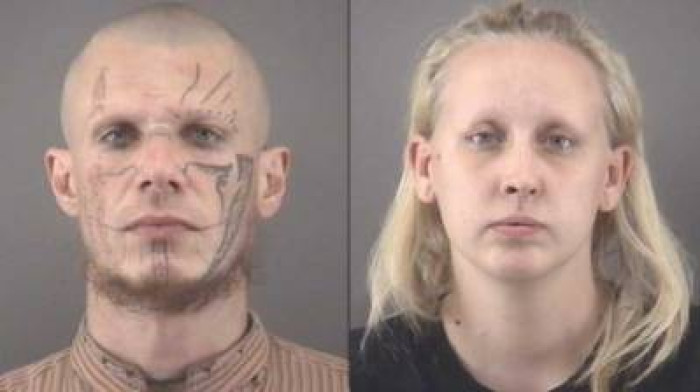 A North Carolina woman suspected of helping her satanist boyfriend kill two men before burying them in the backyard of a Clemmons home has accepted a plea deal and will serve 30 to 40 years for second-degree murder.
Pazuzu Algarad - who is suspected of cannibalism - killed himself before his murder trial but Amber Nicole Burch has admitted helping to murder one of the two victims and being an accessory after the fact in the other. Another woman, Krystal Nicole Matlock, is charged with being an accessory by helping to bury the bodies.
Algarad and Burch were arrested at a property in Clemmons on 5 October 2014. When police and housing officers entered the house, owned by Algarad's mother Cynthia Lawson - herself a satanist - they encountered horrifying scenes, including human and animal excrement on the floor, satanist posters, swastikas spray-painted on walls and animal carcasses. The house has been demolished.
In the backyard, police found the remains of Joshua Fredrick Wetzler, 37, and Tommy Dean Welch, 36, both of whom were buried in around 2009. Friends said Algarad boasted at the time about killing the men, eating body parts and burning the rest of them in a fire pit, but nobody believed him. He also claimed to have killed two prostitutes, although no other bodies have been discovered.
Algarad was discovered unresponsive, with a wound to his arm, in his cell at Central Prison in Raleigh on 28 October 2015. Attempts were made to resuscitate him but he was pronounced dead at the scene. The mother of one of his alleged victims said he took the coward's way out.
"I'm not even sure how I feel. I'm kind of numb," Wetzler's mother, Martha, told Fox8. "I want to know why. Why he did that. But I'm not so sure I'll get an answer to that. [His death] only proves to me that he knew what he'd done and that he didn't want to be responsible for his actions."