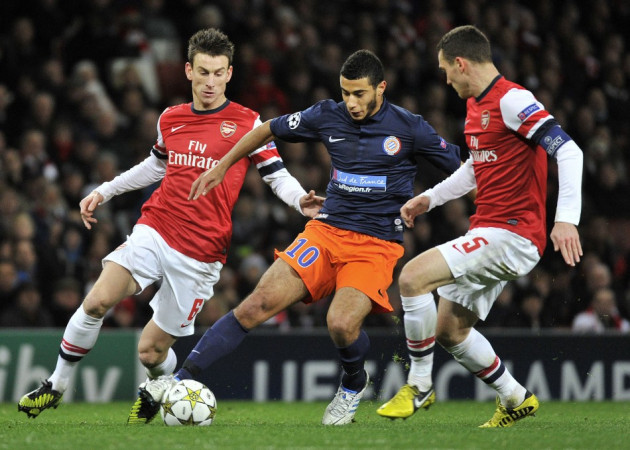 Arsenal striker Olivier Giroud has given his seal of approval on Younes Belhanda after the Montpellier midfielder contacted him regarding the Premier League.
Belhanda is set to leave the Stade de la Mosson this summer after a disappointing season for his club side, which saw Montpellier fail to repeat their title winning heroics of the 2011/12 campaign, as they finished in 9th, outside the European places.
Resident Louis Nicollin has already washed his hands of the Moroccan international, who has made public his desire to move to either the Premier League or the Bundesliga, with Arsenal and Tottenham Hotspur both linked with the high energy midfielder.
And ahead of a summer where Belhanda's future is likely to be high on the agenda, Giroud, a former teammate of Belhanda, and who himself adapted well to life in the English top flight after scoring 10 goals for Arsenal in the Premier League, says the 23 year old has all the attributes to succeed.
"I would welcome him with open arms," Giroud said. "He called me to ask for advice about the Premier League.
"He has the basics with the engine and the physique cut out for this league. He would just have to work a bit athletically to be able to handle the physical impact of the tackles."
Amid interest from Arsenal and Tottenham, not least the emergence of the Bundesliga in recent seasons, Belhanda is under no illusions where he would like he would like his next move to be.
"There has been contact, but things need to be firmed up," Belhanda said last week. "I want to go to England or Germany. I think that I'm cut out for football which is both physical and technical, which is based on taking risks.
"My wish would be to play in the Champions League next season, but I could also sign for a club with a great history.
"I'll not learn any more here [in France]. I know how we play here. I need to see a different mentality, other facilities, a different passion. The Champions League with Montpellier opened my eyes."