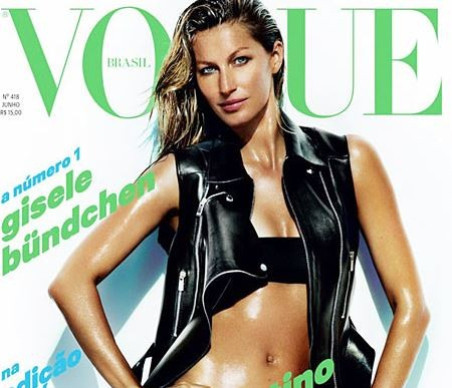 Brazilian supermodel Gisele Bundchen showed off her toned figure on the cover of Vogue Brazil's Special Body Issue.
The images taken by Mario Testino, showed the 32-year-old, who gave birth to a second child two months prior to the shoot, in a black bikini and sleeveless motorcycle vest.
"Mario got so excited with Gisele's shape, and how she looked amazing two months after giving birth, that he proposed to do eight more editorials on the theme, each very different from the other, discussing subjects from gender identity to the right to use your body as you wish," Vogue Brazil editor Daniela Falcao told Women's Wear Daily.
The magazine also features Pamela Anderson, Brazilian actors Débora Nascimento and José Loreto and footballer Alexandre Pato.
The Victoria's Secret model who got married to NFL Patriots quarterback Tom Brady in February 2009, welcomed their second child, a girl named Vivian Lake, last December. The couple also have a three-year old-son, Benjamin. Bundchen is also step-mother to Jack, Brady's son with ex-wife Bridget Moynahan.
Bundchen, who recently worked on a new advertising campaign for denim brand BLK DNM, talked about not using photoshop with the clicks.
"I loved his approach because I feel like women should be really real and raw and it doesn't really happen anymore [in fashion photographs]," she said, "I love that feeling of, you know, we are women, we are so different, our imperfections are what make us unique and beautiful. He gets that. He's not trying to retouch you or put a pretty light on you. He's not like 'you gotta look a certain way.' He's like, 'you are you' so now I'm gonna just be here with a camera, so express yourself how you like."