Liverpool defender Glen Johnson has hailed the impact of manager Brendan Rodgers and says the club are in a better place than they were last season under Kenny Dalglish.
The Reds finished 17 points off fourth place in the Premier League last season and endured a turbulent campaign, despite winning the League Cup and reaching the FA Cup final.
With nine points separating Liverpool from the Champions League places this season with six games remaining, the club are set to bridge the gap, but manager Brendan Rodgers has ruled out a late season foray into the top four.
But Johnson says the turnaround under Rodgers means Liverpool are likely to reduce the gap to the top four once again come next season.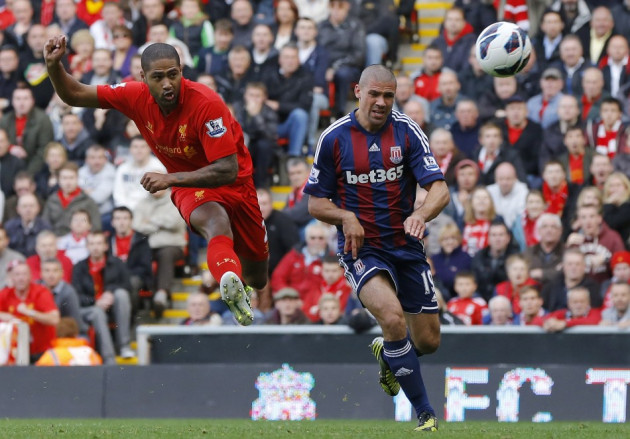 "It is clearly a better season than last season," Johnson said. "Brendan is looking to improve the squad and we have got a better squad than we did have.
"He will look to improve again in the summer. If we can nick the goals we need, we will be right in amongst it [next season].
"Brendan was brought in to rebuild the squad and put Liverpool back into the places that it should be [as a club]. He wants to put us back in the top four but he wasn't asked to do that in his first season. This season has been a step closer to that.
"Of course everyone - players, staff, fans - would love us to be back in the top four but, if we improve on last season, then it is a step in the right direction."
The England international has been a near ever-present for Liverpool this season, making 30 league starts, the latest coming in the goalless draw with his former side West Ham United.
The game evoked memories of last season's troubles at Anfield, with the club unable to convert their dominance into victory.
Johnson says that with the problems of last term behind them, Liverpool's focus is firmly on the top four.
"You look at the squad, the feeling that there is around the place, the football that we are playing and, like I said, eight times out of 10 we have been battering teams," Johnson added.
"That wasn't the case last season. We won a trophy last season and of course that was fantastic. Everyone wants to win - that's what we are in the game for. But in terms of getting Liverpool back where they belong, we want to be back in the top four."