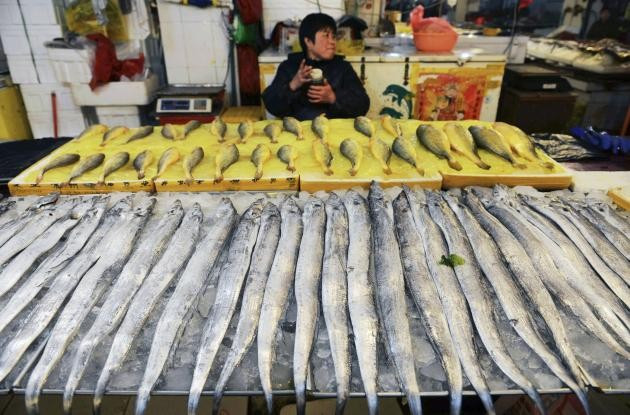 Increased demand for expensive fish in China and Asia has led to a leap in the worldwide price of tuna, oysters, shrimp and salmon, according to a report by the UN Food and Agriculture Organisation.
The global fish price index, the measure used by the Rome-based UN body, rose 15% in May, well above the level for the same period in 2012 and passing the previous peak in 2011.
It is bad news for British consumers already struggling with rising inflation which jumped from 2.4% to 2.7% in May, much of it on transport. The spike in fish prices has bucked the slight fall in general food costs.
The index tracks the cost of wild and farmed seafood and is considered the benchmark in an industry expected to be worth $130bn (£83bn) by the end of 2013.
Growing urbanisation and more supermarkets has caused increases in demand for seafood in emerging economies, particularly China, said the FAO.
"The product development, including ready meals and clean fillets, facilitates fish consumption," said Audun Lem, a fish expert at the FAO.
Changing diets in China have already led to increases in demand for grains and livestock feed. More call for quality seafood was exerting similar pressure on prices, said the organisation.
"In the coming months, supply constraints for several important species are likely to keep world fish prices on the rise," the FAO warned.
"China remains the world's largest producer of tilapia and the largest supplier to the European market."
Oyster and mussel consumption was growing at 20% a year in China, and imports of salmon, shellfish and other quality fish were rising, making China a leading market for costier products while squeezing supply elsewhere.
Rising demand in Asia has coincided with a decline in the supply of some species because of disease and high feeding costs.
The cost of tuna - one of the most heavily traded species - rose 12% over the last year, reaching a record high on strong demand from makers of sushi and sashimi, as well as from manufacturers of tinned tuna.
The price of shrimp, another heavily traded species, rose 22% over the same period, with supplies in south Asia hit by disease and falling harvest.