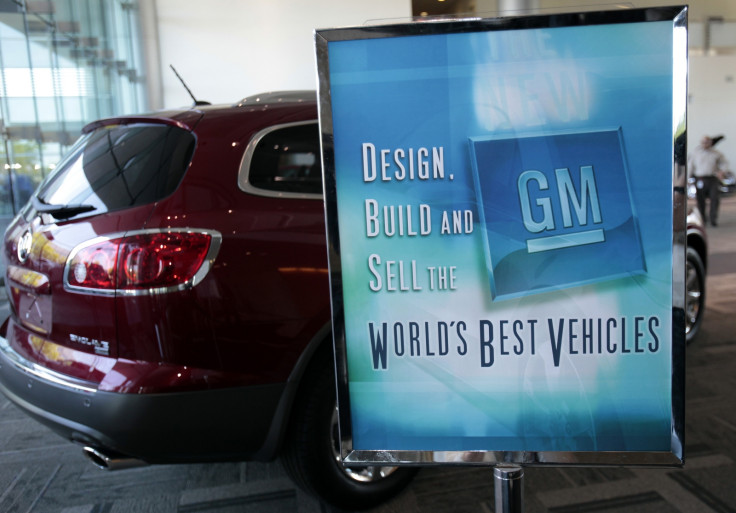 US auto giant General Motors Co (GM) is expected to pay close to $900m (£580m) fine as part of a settlement in a criminal investigation into GM's delayed recall of defective ignition switches in 2.6 million cars that led to over 100 deaths. A formal announcement is expected on Thursday 17 September in New York.
The settlement will be part of a deferred prosecution agreement according to which a voluntary alternative to prosecution takes place where the prosecutor agrees to grant amnesty in exchange for the defendant (GM here) agreeing to fulfill certain requirements. According to Reuters, the terms of GM's deal with the US government were not immediately known, including how many counts the auto maker would be charged with or how long it would need to abide by the agreement before the case may be dropped completely.
The US Justice Department charged GM with criminal wire fraud as a result of the auto maker's failure to recall these defective vehicles. Federal prosecutors based in New York have been investigating GM since March 2014 over the company's disclosures to regulators about vehicles equipped with the faulty ignition switches.
As per a report in the Wall Street Journal, GM commissioned a report in 2014 written by former US Attorney Anton Valukas that found the company failed for more than a decade to recall millions of vehicles with the defective ignition switch even though it had internal evidence of the safety problem. GM CEO Mary Barra had fired 15 employees and disciplined five others after an internal investigation showed the automaker largely ignored the problem.
In 2014, GM recalled 2.6 million small cars worldwide, mostly the Chevrolet Cobalt and Saturn Ion to replace the faulty ignition switches, which unexpectedly slip out of the run position and results in the engine shutting off and disabling the power-assisted steering, power brakes and air bags. The problem eventually caused crashes that killed at least 124 people and injured 275 more.
A fund worth as much as $600m (£387m) was set up by GM to compensate victims. By this, families of those who died will get at least $1m (£6,44,957). GM will additionally face 172 US lawsuits and nine in Canada over injury or death claims, separate from the compensation claims.
Previously, Japanese auto maker Toyota Motor Corp's attempt to hide safety defects over uncontrolled acceleration resulted in a massive liability where the company agreed to pay $1.2bn (£774m) to avoid prosecution ---- the biggest US criminal penalty for a car company. GM's fine is less than Toyota's because the company cooperated with the investigation.