A Canadian woman has been filmed abusing Chinese restaurant workers because they were unable to understand her order, telling them to "go back to China".
The unnamed woman was filmed flying into a rage at staff of the Foody Mart in Scarborough, Toronto, on Friday (2 June).
The footage was captured by Frank Hong and was uploaded to Facebook in the early hours of Saturday morning.
It has already been viewed nearly a million times.
The woman yells: "Go back to China! Go back to China.
"This is Canada, an English speaking country. If you're going to work here it's the law to know English and you know that."
She then turns to a man wearing a shirt, possibly the owner of the restaurant, and continues: "You look like a business man and you know its the law.
"It is the law in Canada that if you're going to work here you need to know the English language or the French language."
In fact, the employees of private businesses in Canada do not have to speak English or French. This stipulation only applies to workers in federal institutions.
"I would like to buy food but these people don't speak English," the woman continues.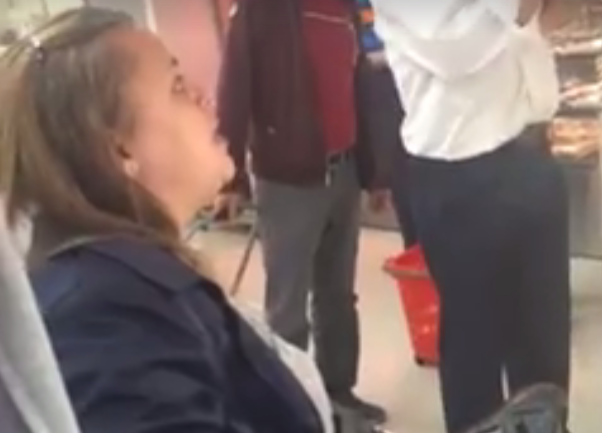 Two other customers then offer to translate for her order. One of them suggests that she may be "looking for trouble".
She replies: "No I wanted to know how much things were so I could order something. All these people working here need to speak the English language. If not then [they should] go back to China."
Eventually, she is placated, and asks, via a translator, the price of some rice and vegetables.
Hong, who uploaded the footage, wrote on Facebook: "I never thought I'd hear those words in real life but this just happened as I was trying to get some food at a Chinese speciality store.
"After three minutes of constant, racist verbal abuse and after trying to intervene, I started to film this video. Racism and xenophobia isn't far from us nor has it gone away.
"As Canadians we think we are safe from these disgusting attitudes and behaviours but we aren't. It has only gotten worse recently."