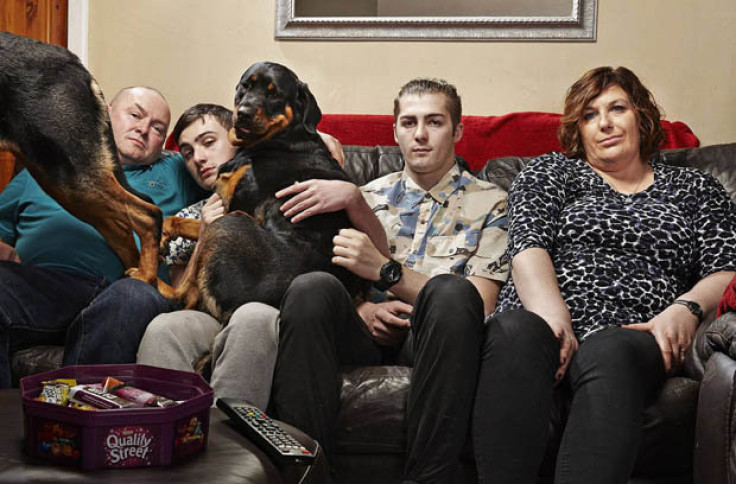 Fellow Gogglebox star Scarlett Moffatt may be stealing headlines at the moment with her I'm A Celeb debut down under, but Shaun Malone has recently come into the spotlight after discussing his terrifying brush with death.
The reality television star – who is part of the show's Malone family with their famous five dogs – has told of how he almost died after developing a rare brain disease when he was a teen.
Until now, fans had no idea that Malone was battling with the sinus infection, which he strongly fought back to pursue his dreams as a coach for Manchester United.
Malone was at the brink of death when the infection spread to his brain and he was rushed to Wythenshawe Hospital in Manchester, where doctors warned his mother Julie and father Tom that he had just 10% chance of survival.
His 53-year-old mother said: "We were absolutely frantic. The doctor said Shaun only had a slim chance of surviving surgery, that there were no beds available.
"Tom said I just went doolally saying 'he's going to be fine, he's going to be fine'. Thankfully Tom was level-headed and really pushed them.
"When a bed was finally found Shaun spent six hours in surgery to remove a piece of bone from his skull because of the swelling. He was in a coma for two weeks and when he came around he had to learn to walk all over again," The Mirror reports.
But the brave 21-year-old bounced back and is already coaching Man United's under-16s Ability Counts team.
He said: "I spent six months in hospital and was so down when I came out, but then I went to the club and saw players with all sorts of disabilities.
"I stopped feeling sorry for myself and gave myself a kick up the bum. It makes me feel really good to be able to help young kids and I hope they look at me and realise that you can make something of yourself no matter what life brings."
Malone was 15 at the time he fell ill, and was a child dancer performing in the West End as Billy Elliot's best friend Michael in August 2010.
Explaining the ordeal, his mother Julie went on: "He'd just come back from a sleep over with his friends and complained of having a headache. I thought he'd just been up late with his pals.
"But within hours he'd started throwing up and I took him to an out of hours doctor who diagnosed him with sinusitis and gave him an anti-sickness injection.
"When he carried on being sick we took him to Wythenshawe who again sent him home with a sinus infection."
As he lay unconscious in a coma, Malone claimed that he could hear his family crying as they feared for his life. He came round after months of intensive physiotherapy, finally began to walk again and was discharged from hospital in January 2011. His progress was also filmed on ITV's Children's Hospital show.
He says now: "I was really pleased to be asked to help coaching the younger ones and I can now hopefully make a difference to their lives the way the team made a difference to mine."
Malone stars in Manchester United Foundation's #UnitedandMe year-long social media campaign, which features other stories of volunteers.