Golden Dawn: Greek 'neo-Nazi' party goes on trial in Athens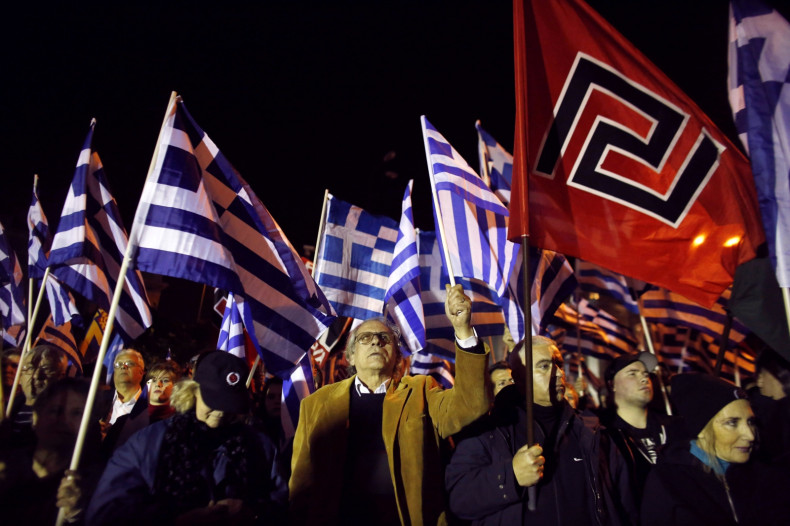 Members of the ultranationalist Greece Golden Dawn party stand trial on Monday, accused of being members of a criminal organisation.
Defendants include party chief Nikos Michaloliakos and 68 others, including all 18 of Golden Dawn's MPs from the 2012 elections, lawmakers and police officers. The defendants will face a panel of three judges.
The trial will be held at a special courthouse in Korydallos, Greece's biggest high-security prison.
They will be joined by more than 100 defence lawyers and many more representing victims, according to a Sunday Times report.
The prosecution will focus on three cases. The murder in 2013 of Pavlos Fyssas, a left-wing rapper also known as Killah P; the attempted murder and attacks on Egyptian fishermen plus the attempted murder of trade unionists from a communist-aligned group.
'Trial of the century'
Giorgos Roupakias, a Golden Dawn member who allegedly stabbed Fyssas, is said to have been acting on party orders.
Soon after Fyssas's killing, police carried out raids and arrested party leaders and members of the group who are alleged to be involved in criminal activities and racist attacks.
Golden Dawn is also accused of inciting racism and organising attacks against political opponents and migrants.
The party denies the charges and says it does not condone violence.
"This is Greece's biggest trial in 40 years. It will last at least 18 months. There will be gatherings by anti-fascist groups and Golden Dawn supporters," said Korydallos mayor Stavros Kasimatis.
Billed as Greece's "trial of the century", this is the first time a Greek parliamentary party has faced criminal charges since the Second World War.
"Golden Dawn members usually cram (into) the courtroom from dawn. We do not want this to happen, and will take all necessary measures to prevent it," anti-fascist activist Takis Giannopoulos told AFP.
Popularity undimmed
The party is still popular with voters. Of the 17 Golden Dawn MPs who were voted into the 300-seat parliament in January, 13 were re-elected – running their campaign from the Korydallos prison. The party also gained third place in European Parliament elections in May 2014, naming three MEPs for the first time in its history.
Golden Dawn is seen by many as a neo-Nazi party because of their far-right views, straight-arm salute and its emblem bearing a striking similarity with a swastika.
During police searches of members' homes, firearms and weapons were discovered as well as Nazi and fascist memorabilia.
In a May 2012 interview, Michaloliakos denied the Holocaust, telling Greece's Mega channel: "There were no crematoria, it's a lie. Or gas chambers."