Greece's Neo Nazis: Golden Dawn Members Attend Parliament in Handcuffs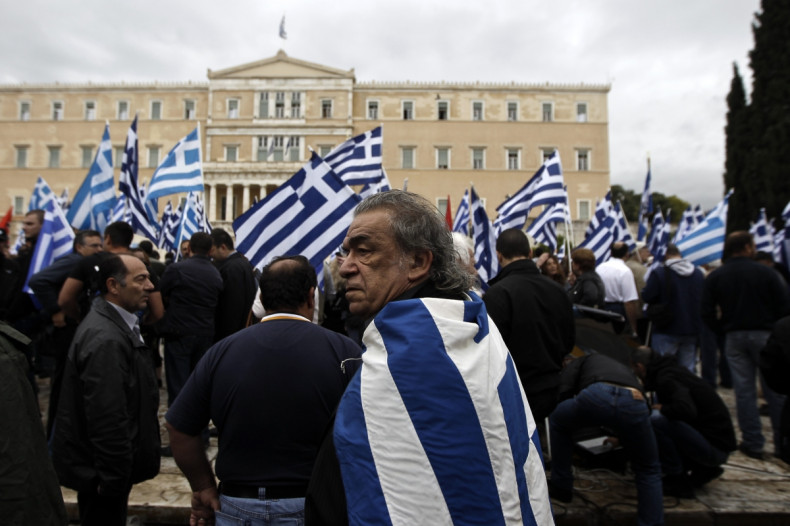 Jailed leaders of the far-right Golden Dawn party have appeared before the Greek parliament at a debate on lifting their immunity from prosecution on further charges.
Nikos Michaloliakos, founder and leader of the party, along with five other Golden dawn lawmakers were jailed several months ago on charges of running a criminal organisation, following the murder of anti-fascist rapper Pavlos Fyssas, nicknamed Killah P.
They were transferred from prison to parliament to speak during a debate on lifting their immunity on additional weapons charges.
Around 500 hardcore supporter of the neo-Nazi group gathered outside Athens' parliament building in Syntagma square holding Greek and Golden Dawn flags and shouting "leader, leader, our great leader" as handcuffed Michaloliakos was brought inside.
Police have also cordoned off the central boulevard that runs past the parliament.
In his speech to the parliament, Michaloliakos claimed that several MPs of the New Democracy party of PM Antonis Samaras approached his party to seek an alliance. He said that former cabinet secretary and Samaras confidant Takis Baltakos told him in a face-to-face meeting that the crackdown on Golden Dawn was politically motivated.
In April, Baltakos was forced to resign following the outcry caused by a video released by the Golden Dawn showing him in a friendly conversation with the party's MP Ilias Kasidiaris over the party crackdown. He apologised for the comments, which he said were intended to "relieve pressure" from Golden Dawn party officials, according to AP.
In the undated video, Baltakos can be heard saying that there was no evidence to support the government's crackdown on the neo-Nazi party, which followed the fatal stabbing of Fyssas by a Golden Dawn supporter last year.
"Leave! You are dangerous to the country," Michaloliakos screamed to government MPs.
Golden Dawn scored third in the latest local and European elections on an anti-bailout anti-EU ticket, emerging as the country's fastest growing party. The party won 18 seats in the 300-strong Greek parliament in June 2012 gaining support amid Greece's economic crisis and growing unemployment.