Golden Dawn: Greek Prosecutor Demands Criminal Trial for All of the Far-Right Party's Members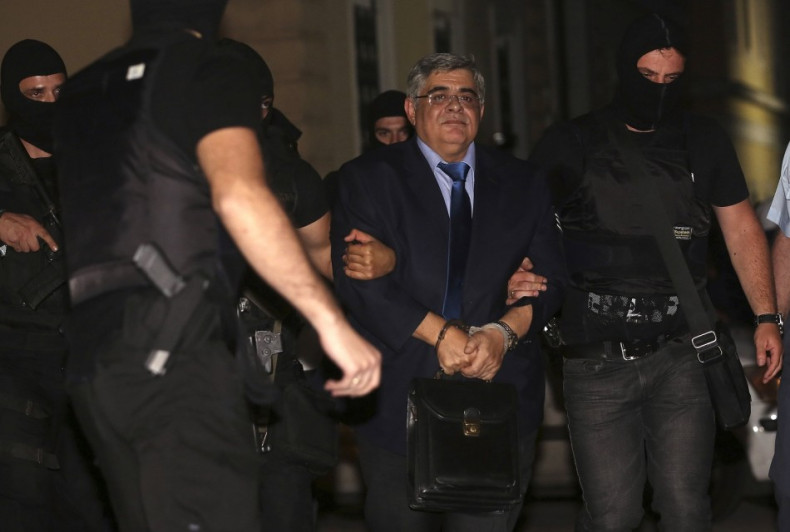 A Greek state prosecutor has asked all Golden Dawn's MPs to face trial for offences including allegedly running a criminal organisation.
Prosecutor Isidoros Dogiakos, who is handling the investigation over the far-right party, proposed in his 700-page argument that 70 party members - including party leader Nikolaos Michaloliakos and 15 other MPs - should appear before a criminal court.
Among the charges are the murders of anti-fascist rapper Pavlos Fyssas, nicknamed Killah P, and Pakistani immigrant Luqman Shahzad on January 2013. A three-member panel of judges is expected to issue the final charges within weeks, according to AP.
Golden Dawn lawmakers face a maximum of 20 years in prison for charges that include allegations of weapons offences and attacks on gay people, immigrants and left-wing activists.
Dogiakos argued the severity of the charges was so significant, all members of the parliamentary group should face justice.
Golden Dawn has always denied any role in the killing of Fyssas. Police arrested a 45-year-old self-professed party supporter, George Roupakias, over the murder.
The far-right party won 18 seats in the 300-strong Greek parliament after national elections in June 2012, gaining support amid Greece's economic crisis and growing unemployment.
Last year its support peaked to 15%, becoming the third-most popular party in Greece. Since then, the backing for the party has dropped to around 7%.
It came third in the latest local and European elections on an anti-bailout anti-EU ticket.
All 16 Golden Dawn lawmakers are awaiting trial in custody.