Athens: Police 'Physically Abused Anti-Fascist Activists in Collusion with Golden Dawn'
Fresh allegations of collaboration between police and neo-Nazi party.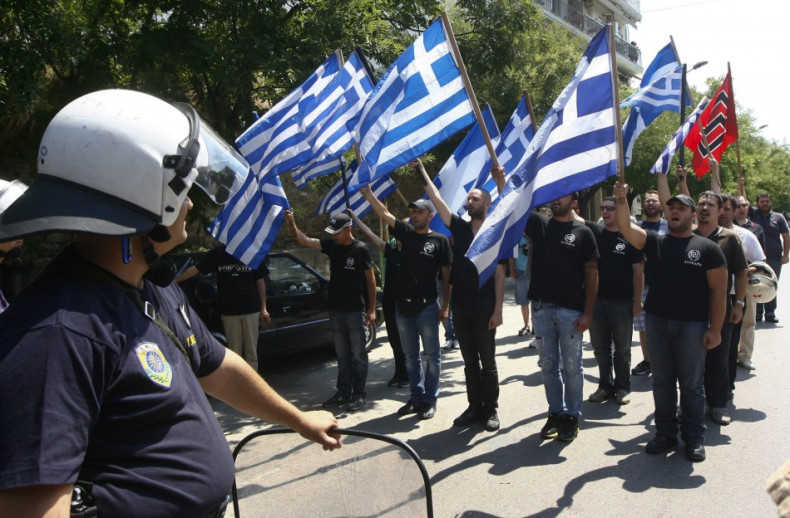 Fresh accusations of collusion between Greek police and neo-Nazi party Golden Dawn have emerged after a group of anti-fascist demonstrators claimed to have been tortured and abused in police custody.
A group of 15 activists arrested during a demonstration in support of Athens' immigrant communities claimed to have been beaten, abused and threated by police officers at the Athens Attica General Police Directorate (GADA) where they were held overnight before being released on bail.
"They were spat on, kept awake all night and physically abused," Harry Ladis, the lawyer of one of the demonstrators, told IBTimes UK.
"Policemen also took photos of them and said they would have given them, together with their addresses, to Golden Dawn for reprisals."
'Exaggerated violence'
The 15 activists were among a group of about 150 people which gathered in a central Athens district near Amerika square to demonstrate against the alleged attacks on immigrants by Golden Dawn members.
A few days earlier the Tanzanian community centre in the same area - a stronghold of Golden Dawn - had been attacked by a mob of right-wing extremists.
The rally was proceeding loudly but passively through the streets, shortly followed by anti-riot police, when demonstrators were faced by between one and three individuals, Ladis said.
The men wore black Golden Dawn t-shirts, according to an account from demonstrators which was published by The Guardian.
A scuffle erupted and police soon charged the anti-fascist protesters, using "exaggerated violence," Ladis said.
While 15 activists were arrested, reports suggest that no action was taken against the Golden Dawn members who disrupted the rally.
It is alleged that the activists attacked police and the Golden Dawn members. However Ladis suggests that his clients were in fact the ones attacked.
"Police wanted to give a clear sign that you are not allowed to demonstrate where they [Golden Dawn] have an upper hand," he added.
The demonstrators were taken to the GADA where they were allegedly tortured. According to Ladis, the 15 detainees were left all night with some of the same policemen that had arrested them, who "were given the green light" to slap and kick the protestors, burning them with cigarettes and hit them with Tasers.
25 other people, part of another group of protesters that gathered in front of a Court in Athens to demonstrate in support of their detained fellows, were later arrested and subjected to a similar treatment.
As demonstrations went on in the following days, a third group of protesters was attaked by police that "used batons" to disperse them, "without being provoked," according to Kondylia Gogou, a member of international watchdog Amnesty International investigating the case.
"The situation is disconcerting," added Gogou. "They [police] do not take any measure to protect victims of racist attacks but intimidate and arrest who complains."
"There is a status of everyday fear among immigrants," said Ladis, "there are episodes of racist violence and attacks against them every day and nothing happens."
Although Ladis and the other demonstrators' lawyers are preparing a complaint to lodge against the police, a police spokesman interviewed by IBTimes UK denied the allegations, adding that authorities duly investigate all of the claims received.