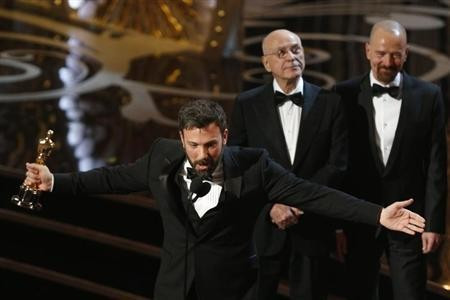 The Golden Globes have always served as a trend-setter for the Oscars. While some stars manage to carry forward their winning streak to the Oscar podium, there have been others who have not been as lucky.
Yahoo Movies has a roundup of the best and worst "auditions" by Hollywood folks at The Golden Globe Awards:
Gwyneth Paltrow was nominated for an Oscar under the Best Actress category for her performance in the 1998 film, Shakespeare in Love.
As the awards season started, her contemporaries seemed to be the hot favourites (Cate Blanchett for Elizabeth, Fernanda Montenegro for Central Station and Cameron Diaz for There's Something About Mary), but it was only after her moving speech at the Golden Globe Awards, where she won, that the Oscar voters were convinced about handing the trophy to her.
In her speech, Paltrow mentioned two family members who were battling cancer and she wept as she thanked her dad "who's had a tough year and to my grandpa, who's having an even tougher year. Hang in there, grandpa!"
In 2013, Ben Affleck was shockingly snubbed by the Oscar committee when his name did not figure in the list of nominees for Best Director (for Argo). However, after his dignified wining speech at the Globes, he ended up bagging the Best Picture Oscar trophy.
"Because that's what the Globes do best. If you look like a champ there, you can skate to easy Oscar victory later. Frankly, winning a Globe is your Oscar audition," states the Yahoo report.
Winners can just as easily dash their Oscar chances as well. For example, in 2005 it was Annette Bening's (Being Julia) long and boring speech at the Globes that reportedly resulted in her not winning an Oscar later on. The award went to Hilary Swank for Million Dollar Baby.
The actor who tops the list of "Globe Winner Oscar Loser" is Jim Carrey. The two-time Golden Globe winner has never been nominated for an Oscar. And the reason for that may be the following speech (loaded with Oscar and Globe insults) that he made after winning the globe for The Truman Show:
"It's going to be so hard to talk out of my a** after this .... but I'll manage, I'll manage. What a shocker. If you look back over some of my earlier dramatic work in films like 'Earth Girls Are Easy' and 'Once Bitten,' you might have seen this coming, but I really wasn't expecting it .... You know what this means, don't you? I'm a shoo-in for the Blockbuster Award. I'd like to thank my mother and father and the Academy. No! I mean ... I'm sorry! I was thinking of something else. Thank you, Hollywood Foreign Press. I'll enjoy this very much -- down to the chewy chocolate center."