Goldman Sachs Muppet Row Whistleblower Greg Smith's Book Reveals Intern Humiliation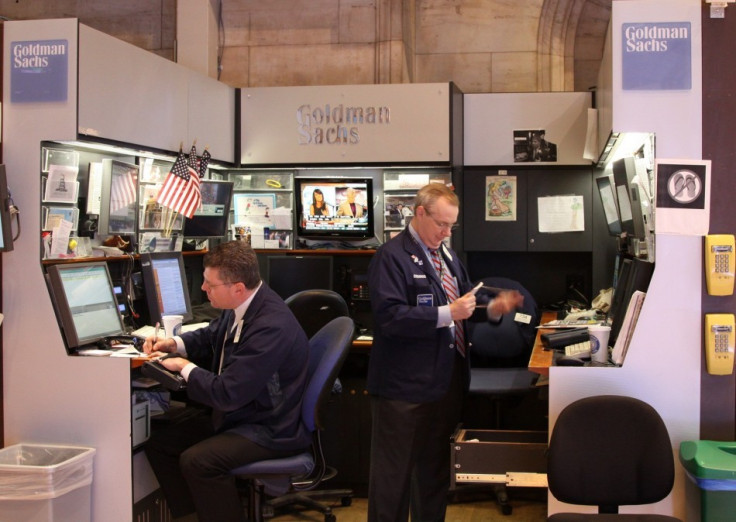 Interns at Goldman Sachs had to carry around stools and wear orange badges as a sign of their humble position, according to a book about life on the inside of the investment banking firm.
Greg Smith, who worked at the bank for 12 years, makes the claim in his book, Why I Left Goldman Sachs: A Wall Street Story, which has been leaked online.
In the chapter entitled I Don't Know But I'll Find Out, Smith shares details of how he and the other 74 interns were treated when he started work there. They were "always being judged", he says.
The interns were expected to attend "brutal" meetings at 6am where they would be subjected to rapid-fire questions about the company. If too many interns arrived late, the next meeting was set for 5am.
Smith recalls how one girl was quizzed on Goldman Sachs' view on Microsoft stock. The intern did not know. He wrote: "Nothing comes out of her mouth. She starts to tear up and runs out of the room."
Interns were also required to carry around stools that were just 18 inches high. They were told there were no spare chairs but the stalls also marked out their lowly station within the company.
Smith writes: "The stool. Practically speaking, you carried it with you at all times because there were no extra chairs at the trading desks. But the folding stool, along with your big orange ID badge on its bright orange lanyard, was also a status marker: it showed that you were a pleb, a newbie, a punk kid. It was innately demeaning.
"To spice up the situation, there was a perpetual shortage of stools ... At the beginning of the day, the interns would grab for all the available folding stools and invariably a few interns would get caught short."
Interns also found they could "add value" to their worth by getting lunch for other employees. Smith recalls how one intern got the lunch order of a managing director wrong - getting him a cheese salad instead of sandwich.
"He opened the container, looked at the salad, looked up at the kid, closed the container, and threw it in the trash. It was a bit harsh but it was also a teaching moment."
In his resignation letter earlier this year, Smith said he decided to leave the company because the environment had become "toxic and destructive". He accused senior traders at the bank of sneering at clients as "Muppets", although an internal inquiry denied his claim.
He says he decided to leave when he found he could not look students in the eye "and tell them what a great place this was to work".
Smith says that when he started the bank had "revolved around teamwork, integrity, a spirit of humility, and always doing right by our clients". When he left, he says, there was "no trace of the culture" that had made him "love" working there.
Why I Left Goldman Sachs will be released on 22 October. Smith is said to have received a $1.5m (£931,000) advance for the book.
Meanwhile, the investment bank reported a $1.51bn (£936m) profit in the third quarter comfortably beat market expectations and compares with a loss of $393m in the same period last year.
"Results were marked by improved, but by no means great, performance across most of Goldman's business lines," said Howard Chen, an analyst at Credit Suisse.
Revenue more than doubled to $8.35bn. Goldman has so far amassed a pot of $11bn to pay salaries and bonuses to its 32,600 employees this year, up 10pc on last year.
© Copyright IBTimes 2023. All rights reserved.