People in northern Ethiopia have started a three-day strike in response to a nationwide state of emergency declared earlier this month. The strike is taking place in the city of Gondar, Amhara region, where schools, businesses and transportation were shut down on Monday 17 October.
Organisers said the strike also aimed to shed light on the recent massacres and alleged human rights violations being perpetrated across Ethiopia, mainly in Amhara and Oromo regions, the independent website ESAT, banned under the state of emergency, reported.
Ethiopia declared the state of emergency, supposed to last for six months, earlier in October following months of anti-government protests in Oromia and occasionally in Amhara.
Members of the opposition, activists and rights groups repeatedly claimed protests have resulted in the death of more than 500 people since November 2015.
Protests in Oromia and Amhara have been labelled as the biggest anti-government unrest Ethiopia has witnessed in recent history.
State of emergency rules
Under the state of emergency the government has introduced new measures, including not allowing diplomats to travel more than 40km (25m) outside of the capital Addis Ababa without official permission.
Among other things, people are barred from contacting individuals and groups that the state has labelled as terrorists and from watching media channels, including Oromia Media Network and Ethiopian Satellite Television and Radio.
The opposition claimed the new measures aim to quell ongoing anti-government protests.
However, the government said in several statements that the state of emergency will be used to coordinate security forces against "anti-peace elements".
---
UPDATE: Nigusu Tilahun, head of communications for the Amhara state, denied a strike had taken place in Gondar and told IBTimes UK activities had continued as normal in the area.

---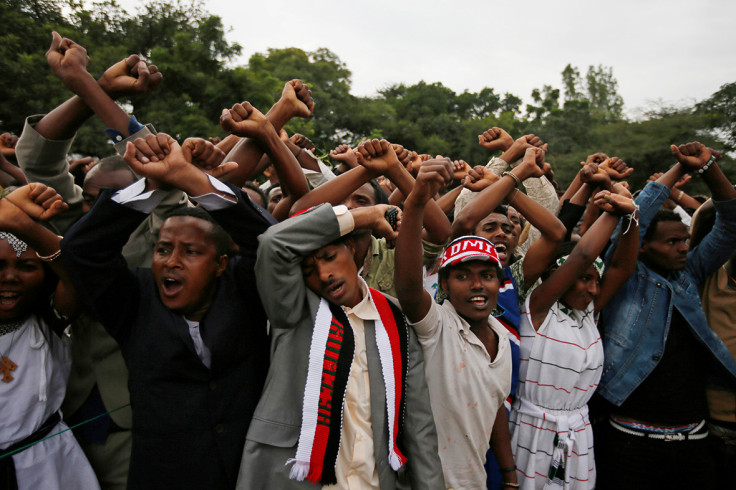 Government's position on protests
Ethiopia has come under fire for the way it is handling unrest in Oromia and Amhara. The government has been urged by both Germany and the US to use the state of emergency to open a dialogue with protesters.
On 11 October, Prime Minister Hailemariam Desalegn admitted the death toll could be higher than 500 since protests started in November 2015. However, he denied security forces had reacted disproportionately.
The Ethiopian government has always maintained security forces intervened to quell violence carried out by "anti-peace" instigators.
The government also alleged Eritrea and Egypt fomented the protests to destabilise the country.
In separate statements earlier this year, the government claimed protesters were trying to secede and create an independent Oromia state and declared the protests illegal.
The government has also dismissed allegations of violence contained in previous HRW reports with an official telling IBTimes UK the claims were "abysmal propaganda".