Google Doodle Celebrates Gustav Klimt's 150th Birth Anniversary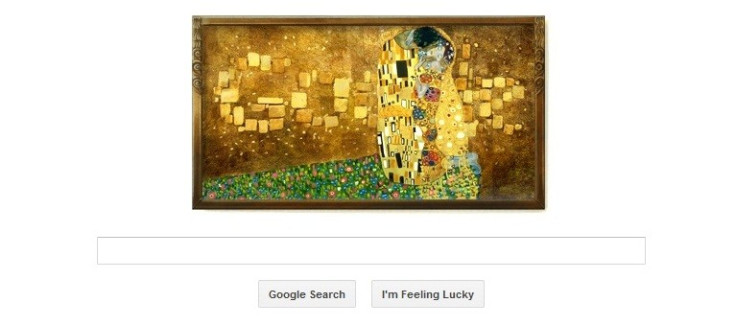 Google doodle is celebrating the 150th birth anniversary of Gustav Klimt, an Austrian symbolist painter, by displaying The Kiss portrait on its home page.
The Kiss which depicts a couple embracing, their bodies entwined in elaborate robes, was painted between 1907 and 1908.
Gustav Klimt, born on 14 July, 1862 in Baumgarten, near Vienna in Australia, spent his childhood in poverty. His father Ernst Klimt was a gold engraver.
In 1876, when Gustav Klimt was 14 he joined the Vienna School of Arts and Crafts to study art. He mastered his artistic skills in the school and received training in painting murals till 1883.
Later, Gustav Klimt, his brother Ernst and his friend Franz Matsch started working together. They created several murals and earned some money by selling them. Professor Ferdinand Laufberger from the Vienna School of Arts and Crafts was very impressed by their work and asked them to paint murals in the Kunsthistorisches Museum in Vienna.
In 1888, Klimt was awarded by Emperor Franz Josef I of Austria for his contributions to mural paintings in the Burgtheater in Vienna.
Gustav Klimt lost his father and brother Ernst in 1892 and the tragedy had a major impact on his artistic life.
In early 1890, Klimt met Emilie Flöge, who, some theorists claim, was the main inspiration for his erotic female body art work.
Klimt was well known for his paintings of nude women. One of his paintings, Hope II, depicting a nude pregnant woman, faced a huge problem and he was forced to remove it from the public sphere.
Klimt's artworks gained wide popularity in 1898. He used gold and silver leaf in his artworks. Some of his famous artworks are Judith I, Death and Life, Adele Bloch-Bauer I, Field of Poppies, Fulfillment, Expectation, and The Kiss.
Klimt's painting, Death and Life received the first prize in a world exhibition in Rome in 1911.
In 1918, Gustav Klimt suffered a stroke paralysing his right side. On 6 February 1918 he died from influenza. Although he never married, he has said to have bought up fourteen children.
Recently, his Attersee painting fetched $40.4 million at a Sotheby's auction.
© Copyright IBTimes 2023. All rights reserved.