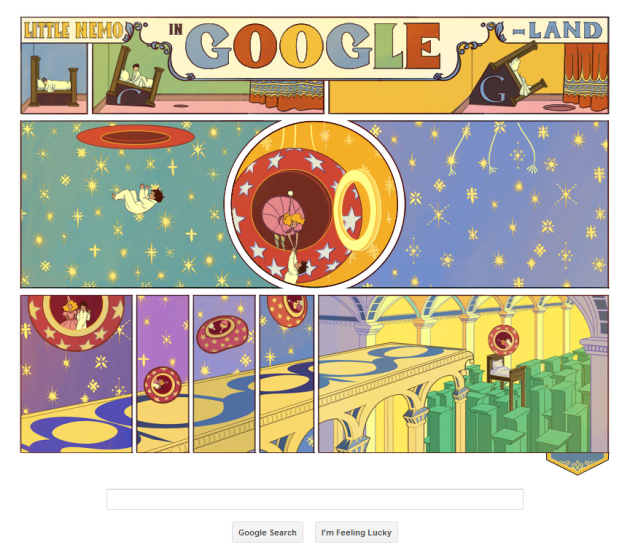 Google has come up with a doodle on the famous comic character Little Nemo created by Winsor McCay to mark the 107th anniversary of the comic strip's publication.
The interactive doodle shows a story, similar to those in his Slumberland series. The animation starts with the title Little Nemo in Google Land and Nemo falling from his bed into a hole. When you click the tab below the doodle, a new section opens up, and Nemo is seen rescued by the princess of Slumberland. Together with the princess he goes through a number of adventures and finally wakes up from his dream after falling down from the bed.
The letters from the word Google are seen scattered over the different tabs that open up to tell the story.
Born in 1869, Winsor Zenic McCay was an American cartoonist and animator. For legal reasons McCay worked under the pen name Silas.
He started the pursuit of his passion in Michigan, joining for basic art training while attending business school, but soon left studies to work in a printing and engraving company due to financial constraints.
His first comic strip series, A Tale of Jungle Imps by Felix Fiddle, was published in the Cincinnatti Enquirer in more than 40 episodes.
Little Nemo, which appeared as Little Nemo in Slumberland and later In the Land of Wonderful Dreams was one of his most popular creations. It first appeared in the Sunday edition of the New York Herald in 1905. The story revolved around Nemo's quest to reach the Princess of Slumberland, the daughter of King Morpheus, who wants Nemo as a playmate.
In 1911, McCay became an editorial cartoonist in the New York American. He had also tried his hand at animation, making Gertie the Dinosaur and a Little Nemo film.