Google is celebrating the 120th anniversary of the first modern Olympic Games with doodles of four different scenes from the Games. Now considered one of the world's most prestigious sporting events, elite athletes will battle it out for medals in 306 events in 28 sports at the 2016 Summer Olympics in Rio de Janeiro.
The first official modern Olympics took place in 1896. Officially known as the Games of the I Olympiad, participants competed inside the Panathenaic Stadium in the Greek capital, Athens.
"The 1896 Games included 9 different sports and 43 events. Most noteworthy was the marathon – it had the greatest number of international athletes ever," commented Google. "Equally noteworthy was its winner, Spyridon 'Spyro' Louis, the only Greek champion in the athletics division, and a national hero for the host country. His monumental victory on that historic day continues to inspire Greek pride."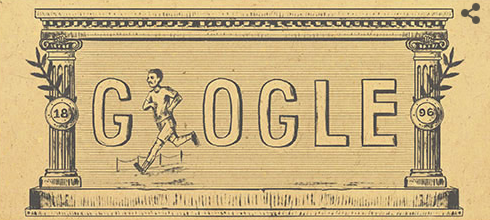 Today's (6 April) doodles were designed by Olivia Huynh and they show four different scenes from the event. Each doodle can be seen by refreshing the homepage.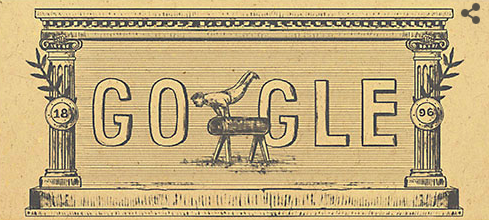 Since the first modern Olympics were held over a century ago, they have continued to be staged the world over every four years with the exception of 1940 and 1944 due to World War II. London is the only city to have hosted the event on three occasions, including in 1948.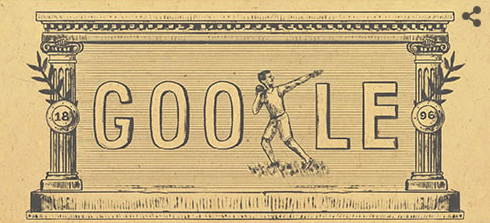 The Summer Olympics in Rio, Brazil later this year marks the first time the tournament will be hosted by a South American city.
Like its modern counterpart, the Ancient Olympic Games were a quadrennial tournament which began around 776BC. The games were held in honour of the Greek king of gods, Zeus and were staged in Olympia.
Unlike today, victors did not receive medals. Instead, winners were given a wreath of leaves and were greeted as heroes upon their return home, having delivered glory to their city.