Google introduces VR products on Play Store; Cardboard viewer now available for $15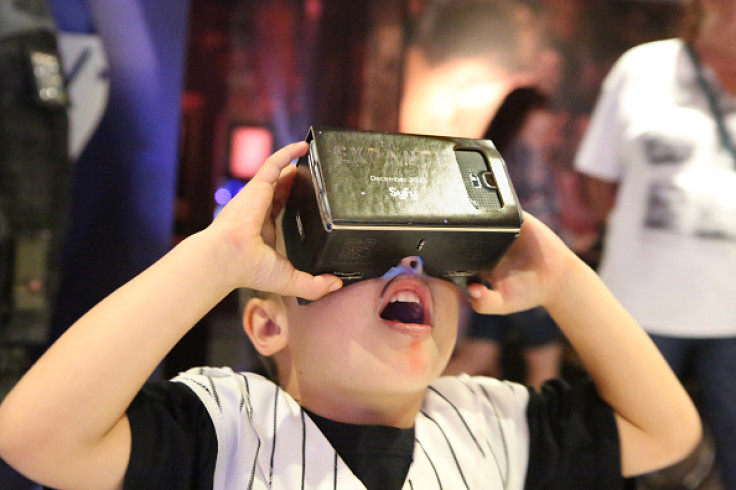 Google has listed three of its virtual reality products on its Play Store. Previously, these products were available only at large retail outlets.
The three products listed online include: Cardboard VR viewer, Goggle Tech C1-Glass VR Viewer and Mattel View-Master VR Starter Pac. Numerous compatible apps are also available on the Play Store.
The Cardboard VR Viewer, a binocular-like gadget with a cardboard body and a pair of plastic acrylic lens, is priced at $15 (£10.7, €13.7). It is compatible with Android and iOS handsets that have a screen size ranging between 4in and 6in. It requires a cardboard app to convert the phone screen into a VR ready player.
Another product, Goggle Tech C1-Glass VR Viewer, looks like a pair of spectacles mounted on a polycarbonate frame. This viewer has two hooks on its frame to hold a smartphone. It is priced at $14.99 and is likely to be available for purchase in the near future.
The Mattel View-Master VR Starter Pac is made especially for kids. Its supports smartphones apps, games, videos and Mattel Experience Packs for Kids. Priced at $30, the product is not available for purchase as of now.
Google ventured into virtual reality world in mid-2014, with the launch of the Cardboard viewer. Since then, over five million devices have been shipped so far and 25 million users have downloaded its Cardboard app from the Play Store. Over 750,000 VR photos were captured using the Cardboard Camera in December 2015. The technology giant also released a set of supporting apps on Google Play, including the Camera and the VR viewer app. At present, the store supports more than 1000 third-party VR apps.
The California-based firm is reportedly working on a VR headset compatible with Nexus 5X and Nexus 6P models, which are scheduled to be launched later this year. The headset will compete with existing products in the market like Oculus Rift, HTC Vive, and the PlayStation VR.
© Copyright IBTimes 2023. All rights reserved.