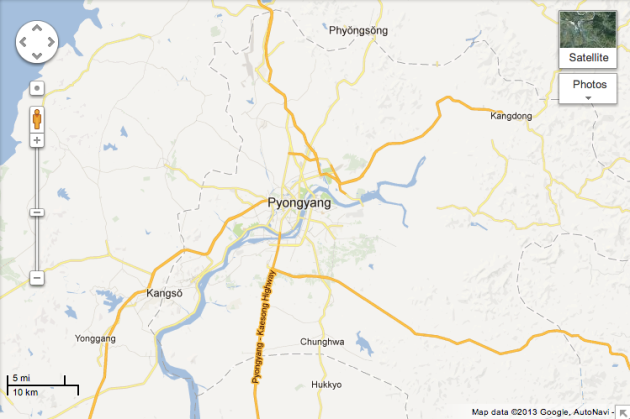 Google has unveiled detailed maps of secretive North Korea on its Google Maps website.
Google's chart of the North Korean territory has passed overnight from a mainly blank area to an amalgam of cities, streets and crossroads.
"For a long time, one of the largest places with limited map data has been North Korea. But we are changing that," said Jayanth Mysore, senior product manager at Google Map Maker.
The move came three weeks after executive chairman Eric Schmidt made a controversial trip to the North Korean capital of Pyongyang.
But the new mapping had nothing to do with Schmidt's visit and was the result of the joint efforts of some netizens, Google said.
"To build this map, a community of citizen cartographers came together in Google Map Maker to make their contributions such as adding road names and points of interest," Mysore said.
"As a result, the world can access maps of North Korea that offer much more information and detail than before."
A number of streets, stadiums and palaces and government buildings have now a name and a place on the map.
Some sensitive locations have also been labelled.
The infamous Yodok gulag is shown in the centre of the country, with a picture depicting men working in the snow beside a barbed wire fence added to the description.
The Yongbyong nuclear site and an unnamed nuclear test facility hidden in the middle of the mountains at the end of a test road in the Punggye-ri area, where Pyongyang is believed to carry out nuclear device experiments, are shown.
Very few North Koreans will be able to access the map from within their own country, however.
"We know this map is not perfect," Mysore said. "While many people around the globe are fascinated with North Korea, these maps are especially important for the citizens of South Korea who have ancestral connections or still have family living there."