A bug in Google Maps has seen the iconic London Tube sign replaced with the New York Subway signs.
If you log onto Google Maps on your laptop, smartphone or tablet today in London, you may notice something a little different.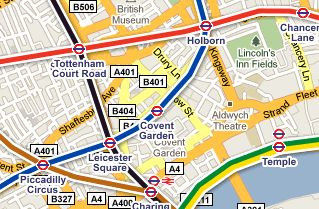 The 270 London Underground stations dotted across the capital have been given an update of sorts in the last few days.
Typically identified by the iconic red, white and blue Tube roundel, stations form Actown Town to Woodside Park are now identified by a square blue icon with an 'M' in the middle - which is the same icon used for the New York Subway system.
The change happened earlier this week and when asked if the change was a permanent one, Google replied by saying:
"The are currently engineering works on the Google Line. Normal services will be resumed shortly."
Reading between the lines, the problem seems to be a minor bug in the Google Maps system which the company is working on and is likely to be fixed in the short term.
For now however, Londoners can live somewhat vicariously through Google Maps and pretend they are travelling on the A train from 125th Street to Columbus Circle rather than on the Circle Line from Edgeware Road to Moorgate.