The overwhelming demand for the Google Nexus 7 tablet has culminated in extended shipping delays, as pre-order customers are losing patience with stocks running out across most retail stores in the US with eBay the only option left for some.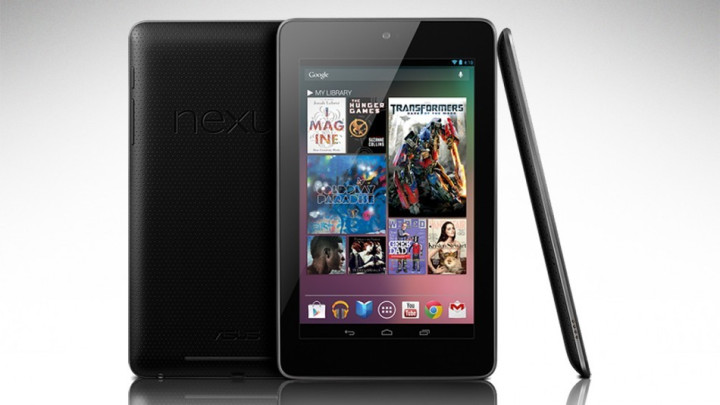 While retailers struggle to meet demand, online auction site eBay is selling the elusive tablet at $300 (approximately £190), which is $100 more than its market price. Sellers on eBay are also adding up to $10 extra as shipping charges, based on the distance and the service availability.
On the US version of Google's Play Store, the approximate wait after placing an order extends from one to four weeks depending on stock availability. According to Google, the 8GB models, priced $199, are shipping after a period of one to two weeks from the date of purchase, whereas the 16GB models, priced $249, will be shipping within three to four weeks in the US.
Meanwhile, the Nexus 7 tablet on Google Play Store is back in stock for the UK customers. As ZDNet notes, Google has confirmed that pre-order stocks for 8GB models will be available this week, while those who chose the 16GB version will have to wait until next week.
The delay in shipping is linked to failed deliveries across the UK, allegedly due to incomplete or missing address details in the customer courier addresses sent by Google. Those who pre-ordered the Jelly Bean tablet from Google have to wait as those buying in-store would be getting their hands first on the Nexus 7 device. Pre-order customers face delays ranging from one to four weeks due to shipping delays.
Some reports hint that the device was held up as the first address line of every package was mistakenly replaced with Gordon House, allegedly by a distributor Computer 2000, who was handling item delivery to biz TNT. Gordon House apparently refers to the building where Google Ireland is headquartered - in Barrow Street, Dublin.
Disappointed Fans Took to XDA Developer Forums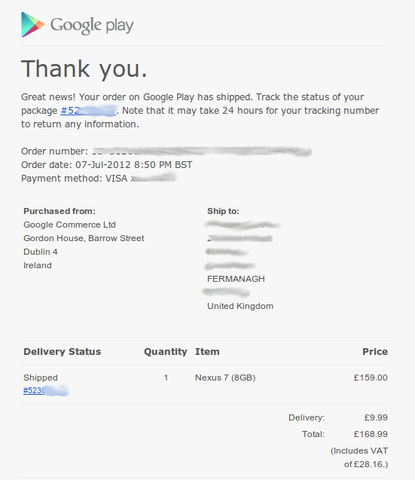 Disappointed fans reportedly took to forums venting their ire on the non-availability of Nexus 7 device through Google.
"I'm heading off to the Gordon House Surgery in Ealing, reckon they will have an entire skip full of Nexus 7s by the end of today," said one customer on XDA Developers forum.
As The Channel points out, about 17,000 posts are flooding the XDA forums regarding the Nexus 7 shipping delay. "My face will spontaneously combust if it doesn't arrive today, or start glowing right in the middle in the shape of a half-eaten apple," vowed another fan from Rochdale.
"Currys are delivering my order [that I] made yesterday tomorrow evening so I don't want have to worry anymore about this Google shambles. Not sure I'll order any device off the play store again!" swore yet another.
Earlier this week Google told IBTimes UK that it would be shipping all pre-orders made by 13 July by the end of this week, however with the mix-up in addresses and stock shortages, it looks like this now may not happen.